Cave Creek Fiesta Days™ Rodeo and Schedule of Events
March 31, 2010
Wednesday, April 7:
• Fiesta Days ™ Golf Tournament - Rancho Manana, 1:30 p.m.
• Dinner – Harold's Corral, 6:30 p.m.

Thursday, April 8:
• Miss Rodeo Arizona Competition, 3 p.m. – Cave Creek Memorial Arena

Friday, April 9:
• Women's Professional Rodeo Association, 11 a.m. – Cave Creek Memorial Arena
• Mutton Bustin, 7 p.m. – Cave Creek Memorial Arena
• Official Fiesta Days™ Kick-Off Dance, 9 p.m. – Harold's Corral

Saturday, April 10:
• Fiesta Days™ 32nd Annual Parade, 9 a.m. – Cave Creek
• Fiesta Days ™ PRCA Rodeo Performances, 1 p.m. and 7 p.m. – Cave Creek Memorial Arena
• Official Fiesta Days™ Rodeo Dance, 9 p.m. – Harold's Corral

Sunday, April 11:
• Mutton Bustin' Finals, 12 p.m. – Cave Creek Memorial Arena
• Fiesta Days™ PRCA Rodeo Final Performance, 1:30 p.m. – Cave Creek Memorial Arena
Felicia Havins – 2010 Fiesta Days Rodeo Queen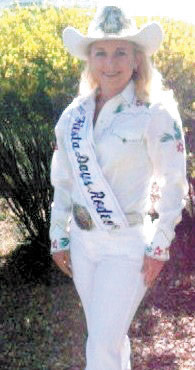 Felicia is 19 and a resident of Queen Creek. She graduated Desert Hills High School and is currently attending Central Arizona College on a Lost Dutchman Days Rodeo scholarship. She was Vice President of the National Honor Society at Desert Hills High School, President of the local Future Farmers of America, Captain and MVP of the Varsity Volleyball Team and a member of the softball and rodeo teams. Felicia was also a member of 4-H and the High School Rodeo Association. She's now competing in the Intercollegiate Rodeo Association in Barrel Racing and Goat Tying. Next up is Breakaway and Team Roping. She is also training to become a certified riding instructor for children with disabilities. Felicia's plans include completing college and becoming a member of the WPRA and competing at the professional level.
Shae Couch – 2010 Fiesta Days Teen Queen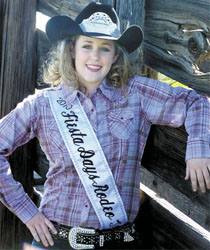 Shae is 17 yrs old and resides in the Desert Foothills area. She attends high school at the Arizona Agribusiness Equine Center – Paradise Valley (AAEC-PV) Shae is also taking classes at Paradise Valley Community College. She plans to complete her freshman college credits by her high school graduation in 2011. She will soon earn an Equine Certificate at AAEC, completing all the required classes in Veterinary Science, Equine Anatomy and Physiology, Equine Sports Medicine, Herd Health, Horse Judging, Nutrition and Animal Reproduction. Her goal is to complete her education with a degree in Agribusiness. Shae has competed in High School Rodeo events such as break away, roping, and goat tying.
A 32 Year Fiesta
By Weslie Swift | March 31, 2010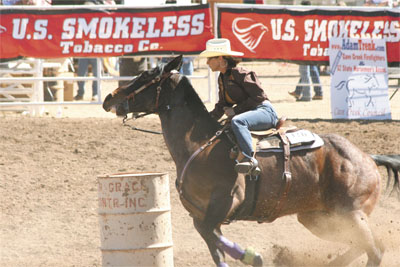 Top-ranking PRCA and WPRA contestants will thrill the audience during the Fiesta Days Rodeo at Cave Creek Memorial Arena. This year's event takes place April 7-11, with the Parade through town set for Saturday morning, April 10. Courtesy photo / DFCA


The DFCA's Love of Rodeo
CAVE CREEK – Fiesta Days, proudly founded and produced by the Desert Foothills Community Association, DFCA, has become the largest annual weekend event in Cave Creek. The Association consists completely of dedicated volunteers who support the event and have transformed it into its present splendor.

Everyone in the local community of Cave Creek anticipates the events of the Fiesta Days weekend. The rodeo, parade, mutton bustin' and golf tournament have supplied fun, family entertainment for many years.

When Fiesta Days started long ago, it was held at various locations, and not until years later did the group decide a permanent ground was necessary. After much negotiation with the Maricopa County Parks Department, a lease was signed in 1983. It was the beginning of the Cave Creek Memorial Arena.

Volunteers labored and spent tiresome hours building the Cave Creek Memorial Arena, and finally in 1985 the first rodeo was held there. Since then determined volunteers have worked on improvements to the arena. A grandstand that holds nearly 3,000 spectators has been recently added to the arena and a watering system has been installed. In 2002 storage facilities were added and women's rodeo, WPRA, was also created.

Their main goal is to establish the Cave Creek Memorial Arena as the best equestrian facility in our community. The proceeds of the 3-day Fiesta Days event are spent improving the grounds.

For 32 years the DFCA has worked for our benefit and entertainment to establish, maintain and grow a Western rodeo presence in Cave Creek. Their efforts and endeavors are proof of their love for our community. Our appreciation towards founders Vern Willer, Earnie Marie Smith, Blake Clark, Chuck Peters, Rollie Reynolds and many other locals remains strong.