Calling all golfers!
March 17, 2010

CAVE CREEK – Come join us at the 17th Annual Fiesta Days Rodeo (FDR) Golf Tournament in Cave Creek on April 7!

The tournament will be held at Rancho Mañana – a course that rightfully boasts some of Arizona's most breathtaking views and challenging holes of golf.

Add in the beautiful spring weather that makes Arizona famous and you've got the perfect combination for a fun filled day of golf.

If that isn't reason enough to call in sick for the day, this tournament is a fund raiser for the Desert Foothills Community Association (DFCA). Money raised helps the DFCA with their events and charities.

Oh wait! Did we forget to mention the photo opportunities available with beautiful Rodeo Queens? See you there!

Following the FDR Tournament, a Prime Rib dinner will be held at Harold's Cave Creek Corral. All contest winners and prizes will be announced at the dinner. Auction items will be available throughout the evening including autographed Cardinal's footballs, golf and vacation packages, restaurant gift certificates and much more! If you would like to help the DFCA by donating an item for auction, please e-mail TraciCasale@aol.com or call 480-488-4043 and leave a message. Golfers can purchase additional dinner tickets for friends or family who just want to join us for the evening fun.

For more information on the FDR Golf Tournament, or to download a golf application, please visit www.cavecreekrodeo.com or call Tom at 480-488-4043 and leave a message.
Scholarships available for children of military heroes
March 17, 2010
DULLES, VA. – Those who defend our freedom know all too well the costs and sacrifices associated with serving in the United States Armed Forces. Many service members leave behind families who must continue their lives with a heavy heart. Other service members sustain wounds and injuries that prevent them from leading a normal life. To show gratitude on behalf of the American people, Freedom Alliance is proud to offer aid to the children of these heroes in the form of college scholarships.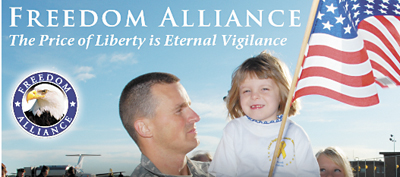 If you or someone you know is the son or daughter of a service member who has sacrificed life or limb, then the Freedom Alliance Scholarship Fund is available to help alleviate the costs of college. Over $3 million has been awarded to hundreds of Freedom Alliance Scholarship recipients since 2002.
"Families of killed or permanently disabled service members face hardships that most Americans can not imagine," Freedom Alliance President Tom Kilgannon said. "To honor the men and women of our Armed Forces by providing scholarships to their children is a privilege. Paying for a college education is one hardship that these students should not have to endure."
An eligible applicant must be the dependent son or daughter of a U.S. soldier, sailor, airman, Marine or Guardsman who has been killed or permanently disabled (100 percent VA disability rating) in an operational mission or training accident, or who is currently classified as a Prisoner of War (POW) or Missing in Action (MIA). They must also be a high school senior or registered as a full time undergraduate student and under the age of 26.
To learn more about the Freedom Alliance Scholarship Fund and/or to apply please visit www.fascholarship.com or call 800-475-6620. The application deadline is July 31.
The mission of Freedom Alliance is to advance the American heritage of freedom by honoring and encouraging military service, defending the sovereignty of the United States and promoting a strong national defense. For more information visit
www.FreedomAlliance.org
.