Head Basketball Coach Dirk Walker resigns
By Pete Mohr | March 17, 2010
Before the start of classes, Friday, March 12, Head Basketball Coach Dirk Walker assembled his underclassmen players to announce to them, first, his decision to resign, effective immediately. Walker coached the Falcons for the three most recent seasons, succeeding Nate Bjorkgren, who left CSHS to accept an assistant coaching position with the Des Moines, Iowa entry in the NBA Developmental League. Because of the Saturday, March 13 start of Spring Break, neither Walker nor Cactus Shadows Administration were available for comment.
Baseball wins 3-of-5; Jaron Long's 1-Hitter!
By Pete Mohr | March 17, 2010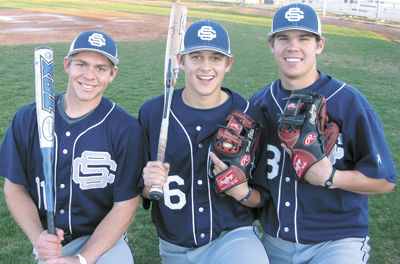 WHAT A "LINE!" Co-Captain Jaron Long (c.) pitched a one-hitter, striking out ten and walking none, as the Falcons blanked McClintock, 7-0, in their important Region opener, at Falcon Field, Thurs., March 11. Long also had three RBIs, including the team's second HR of the young season. Leading off the home 5th, Brent Nurre (l.) had smashed the first round-tripper. Falcon defense shined, led by three outstanding plays at short by Logan Davis (r.). Photo by Pete Mohr

SUNNYSLOPE – In every sport, there are no "good" losses; but there can be "productive" ones. This writer holds that the Sunnyslope Vikings may have done the Baseball Falcons a favor by eliminating them, 5-1, from the Spring Classic, thus sparing the Falcs from playing seven games in seven days. Now the 'Birds have two full days of practice in near-perfect baseball weather before traveling to Saguaro (March 18) and hosting Queen Creek (March 23). Both are important Region games.

Postgame, Head Coach Mike Baker to Sonoran News: "Our pitching would've been a little thin. We didn't get the timely hits today (four doubles produced only one run) and didn't play with much energy. I think our guys may have been a little tired. Now we can go down to Saguaro with our ace, Jaron Long, pitching on a full week's rest."

Falcons stumbled to four errors, spoiling Soph hurler Sean O'Grady's first varsity start.
Co-Captain Long's outing at home against McClintock was a masterpiece! In the Charger third, he gave up a high chopper that a charging Logan Davis gloved but couldn't hold. Clearly a hit, "Mac's" only of the game. Long had three RBIs, including a line drive homer to left leading off the home 6th. In the Falcon 2nd, Nick Francis's sacrifice fly to right drove in the first of four runs. That's all the 'Birds would need in their 7-0 shutout. Batting first in the home 5th, Brent Nurre's towering drive to the left of the scoreboard was the first Falcon "dinger" of the young season.

At 'Slope, the following night, Ryan Nemger hurled a two-hit, seven strikeout gem, as the Falcons blanked Agua Fria, 5-0. CSHS pitching had put up 21 consecutive scoreless innings (Raymond Kellis, McClintock, Agua Fria). On Saturday morning, with five Falcon starters M.I.A. because of S.A.T. exams, the 'Birds spotted Cortez a 7-0 lead in the first two innings; tried to come back; but fell 5-7 short.

Senior Brady Dombrowski was solid in 4 2/3 innings' relief. Behind Joey Ford's sharp first varsity start, the Falcs rebounded in the afternoon half of their doubleheader, downing Sand Springs (OK), 10-6. Ford helped his own cause with a two-RBI double in the 5th.
Reliever Grant Lasley closed the door, retiring in a row the nine batters he faced. It's becoming encouragingly clear that Lasley is a "lights out" reliever.

Tournament wins don't count in A.I.A. Power Points calculations; but Coach Baker found a different value in getting a good look at the pitching depth his Falcons exhibited in the Spring Classic. They'll not have to play five games in five days again this season. So rest up, 'Birds, and get after it against the Sabercats and Bulldogs!