Obituaries
March 11, 2010
William "Bill" E. Brown
Sandra Jo Campbell Pearson

William "Bill" E. Brown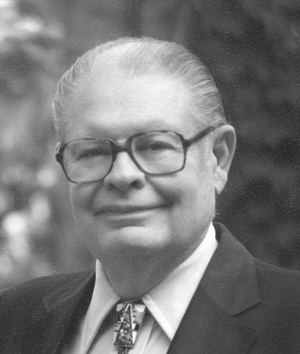 William "Bill" E. Brown, 90, of Waverly, died Monday, March 8, 2010 at Shell Rock Health Center in Shell Rock, Iowa.

Brown was born on Jan. 23, 1920 to William and Matie Gath Brown in Scotts Bluff, Neb. Bill proudly served in the U.S. Navy during World War II. He was united in marriage to Irene Burgess on Nov. 30, 1944 in Lincoln, Neb.

He received his B.A. in Business Administration in 1949 and his Master's degree in Social Work in 1952. He worked at Family Service Association in Lincoln, Neb. as a case worker from 1952-1957 and Exceptional Persons Inc. in Waterloo, Iowa from its inception in 1957 – 1983 as the Founding Executive Director. Bill was a driving force in the development and building of River Hills School.

Bill was a charter member of the National Association of Social Workers and the Academy of Certified Social Workers, a member of the American Association of Mental Deficiency, and National Conference of Executives of Association for Retarded Citizens. He was a life member of Iowa Associations for Retarded Citizens, Easter Seal Society of Iowa and a member of the Christ Episcopal Church.

Awards he received were the Professional Service Award: Iowa Association of Retarded Children (1961). The John F. Kennedy Service Award: Iowa Developmental Disabilities Council (1976), Certificate of Appreciation: Specialized Child Heath Center (1982), Award of Merit – Goodwill Industries of Northeast Iowa (1983), George J. McGee Award for Professional Service in the Social Service Field: Family Service League (1984).

In his retirement Bill along with his wife Irene enjoyed first of all their grand children's visit and their life in their second home in Cave Creek, Ariz. where they enjoyed the weather, were members of the local rock hound club, country western dancing, and collecting edged weapons.

He is survived by his 2 daughters, Jeanne (Duane) Hartwig of Waverly; Kathleen (James) Sundell of Salem, Ore.; 2 grandchildren, Mark (Shereen) Bierbaum and Kristin (John) Dahir both of Omaha, Neb.

Bill was preceded in death his wife Irene and by his sons, David Earl and John Jay; parents; and 1 sister, Violet Gulley.

A graveside service will be held on Friday, March 12, 2010 at 2 p.m. in Lincoln Memorial Cemetery, 6700 S. 15th Street, Lincoln, Neb. Cremation Society of Eastern Central Western Iowa is assisting the family.

Memorial donations may be directed to the Exceptional Person's Foundation Memorial Fund – P.O. Box 4090, 760 Ansborough Ave., Waterloo, Iowa, 50704.

Online condolences may be left for the family at www.iowacremation.com.
Sandra Jo Campbell Pearson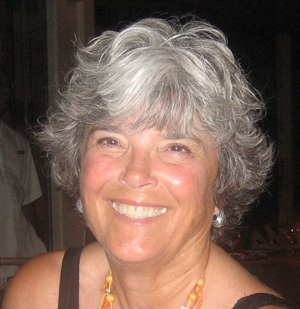 Sandi, born Oct. 19, 1946 in Coral Gables, Florida, died March 10, in Scottsdale, Ariz.

She was surrounded by her family, her many friends and the love she so richly deserved. Sandi grew up all over the world and spent her young adult years in Florida. She rose through the ranks of the investment industry, running operations for several national brokerage firms. During this time, she and daughter Shelley, who had a special and extraordinary bond, enjoyed life on the Florida beaches and then the lights of Beverly Hills before returning home to their family roots in Georgia. Sandi ended her career at Charles Schwab and Associates in San Francisco, where she met her husband Will Pearson. Will and Sandi married in 1991, retired, moved to Scottsdale and pursued having fun with a passion. Days were filled with golf, tennis, world travel and rich friendships.

Sandi and Will own Pages bookstore in Cave Creek. Will says Sandi was the heart and soul of the place and the shop is known for its many special events and symposia. A very accomplished woman, Sandi played classical piano, cultivated an organic garden and was a gourmet cook. And you didn't even want to think about playing Trivial Pursuits with her. Sandi was always focused on the needs of others and did a great deal of charitable work, including serving as president of Creative Women of Pinnacle Peak, where she raised funds for the education of homeless children.

Sandi is survived by her husband Will, four children, Shelley Mulligan, Kelly Hawley, Sean Pearson and GayLynn Beason; sister, Cheri Morris, brothers Bill and Don Campbell, nieces Kristen Morris, Carrie and Chelsea Campbell, nephew Colin Morris and 10 grandchildren, Michael, Ryan, Patrick, Savannah, Tanner, Haley, Hannah, Riley, Holton, and Kiara.

Services will be held Saturday, March 13, at Pinnacle Presbyterian Church, 25150 N. Pima Road, Scottsdale, Ariz. In keeping with her giving spirit Sandi asked that in lieu of flowers donations be made to C.A.R.E. Cancer Awareness Research and Education, P.O. Box 3740, Carefree, AZ, 85377.