Falcs outslug, outduel foes; "Mac" here March 11 – hopefully!
By Pete Mohr | March 10, 2010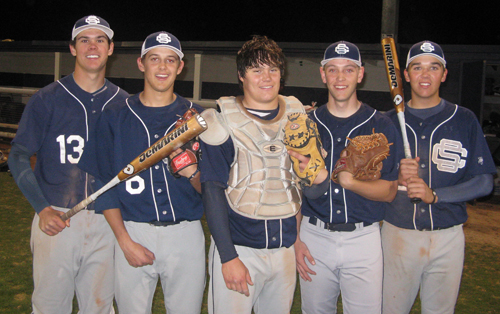 PLAYOFFS BASEBALL: In the nighttime cold of March 4, these five Falcons gave Playoffs performances in the 2-0 shutout of Raymond S. Kellis. (l-r) shortstop Logan Davis (5th inning RBI for Falcons' first run, two defensive gems), starter Co-Captain Jaron Long (six scoreless innings for the win), catcher Cameron Larson (solid behind the plate), reliever Sean O'Grady (1-2-3 7th for the save), Connor Sabanosh (two hits, two great plays at third, alert rundown in the 6th that keyed insurance run). Photo by Pete Mohr

FALCON FIELD - By the time this writer adjourned to Falcon Field from the Lady Falcons' 10-0 "mercy rule" home opener against Sinagua, the 'Birds were hanging to a 10-9 lead over the Sinagua Guys, top of the 5th. On in relief came sophomore Grant Lasley, who yielded only one run in his three-inning save, while his teammates exploded for six more run to ice the 16-10 verdict.

Head Baseball Coach Mike Baker on his – and the Falcons' – inaugural, moved from Sinagua to CSHS because of snow in Flagstaff: "We got off to a big early lead (ten runs in the first two innings); let Sinagua back into the game in the middle innings, but our kids didn't panic; then our bats came alive again to put the game away. All in all, a 'W' to be satisfied with." Junior Ryan Nemger started and pitched four innings to get the win.

Memo to Athletic Director Mark Huston: puh-leeze, "Mr. A.D.," even though not scheduled on your watch, no more night games in early March! Baseball is not a Winter Olympics sport. On Thursday night, March 4, temperatures had dipped into the low 40s at the home ballyard. It was c-o-l-d – but the baseball was hot!

"How hot was it?" In my eight seasons of reporting Falcon baseball, this was probably the best-played regular season game I've spectated. Only one error over the seven-inning distance, with multiple outstanding defensive plays by both teams – most notably Falcon rightfielder Joey Ford keeping Cougar Michael Navarrette's drive in the park for a long out. Kellis leftfielder Michael Maguire similarly robbed first baseman Max Patterson in the home 6th.

Logan Davis's line single to right-center, driving in Co-Captain Charlie Dominick, broke the scoreless tie in the Falcon 5th. Connor Sabanosh's sinking liner to left-center, coupled with his alertness in the ensuing rundown between 1st and 2nd, enabled pinch runner Brady Dombowski to score an insurance run in the next inning. Sophomore reliever Sean O'Grady's perfect 7th "saved" an important early-season victory.

Postgame, a pleased Coach Baker understated to Sonoran News: "A good high school baseball game, wasn't it?" "Coach Mike" had special praise for his starter Co-Captain Jaron Long: "He pitched six terrific shutout innings. Competitor that he is, he didn't want to come out – but his pitch count had gotten over 80. As cold as it had gotten, that was enough. My sophomore "bulldog," Sean O'Grady, closed it out for us. Yeah, it was a really good high school baseball game." Coach, that it most definitely was.

I want to report that as I readied to shoot the accompanying photo, Kellis Head Coach Michael Deardoff crossed the field to congratulate the Falcons. Class! Total class! "Pursuing Victory With Honor" personified. Coach Deardoff, good luck to you and your Cougars the rest of the way. See you in the Playoffs? Just might happen.

It's raining/light hailing as I write this article at midday Tuesday, dampening (pun intended) chances that the Falcons' Region opener, at home, against D-Sky rival McClintock can be played. If the weather reverses in time, Co-Captain Long is the likely starter for the Falcons.

The 'Birds will be out to avenge the Chargers' sweep in 2009, the 1-2 loss at "Mac" played in the bizarreness of "no-lights" darkness. Ask centerfielder Nick Francis, who was lucky to avoid getting struck in the face by the Chargers' game-ending line drive! This Falcon team is solid and sound, baseball fans. Come out and see 'em! First pitch, fingers weather-crossed, at 4 p.m.