Everyday heroes
By Carrie Singer | March 3, 2010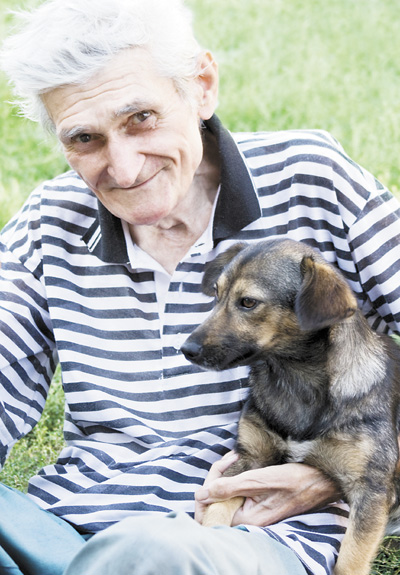 Do we really know how many heroes there are? We probably cross paths with heroes often not ever recognizing them. Everyday encounters we don't give a second thought to. We stand in line with them in stores. We walk by them on the street. The whole time they are cloaked in anonymity. The anonymity a seemingly ordinary life provides.

I was fortunate recently to have met such a hero. His name is John Evans. What makes him special is he lives on a fixed income yet he is more generous than many with substantial incomes. John opens his heart and his home to the aged, ill and overlooked. He provides sanctuary to the dogs society has discarded and deemed unadoptable.

John takes great pleasure in spending his golden years providing a peaceful and loving home for these rescued senior canines. Every life is special and should be lived in celebration not sadness. He is their caretaker through sickness and guardian through the end. One thankfully not spent alone or abandoned.

John is a living testament to the fact that we all have the power to make a difference.
For more information about how you can make a difference contact Animal Guardian Network at 480-488-9298 or carrie@animalguardiannetwork.org.
March Thieves Market spolights rescue animals
March 3, 2010
CAVE CREEK – On March 6, Cave Creek Thieves Market will shine a spotlight on animals in need with the "It's Raining Cats and Dogs," theme. Animal merchants and organizations including Animal Guardian Network (AGN), Animal Health Services, Crown Jules dog collars, Pet Portraits by Laury, Sisters 3 Biscuits and Maricopa County's McGruff, the crime prevention pup, will draw attention to the outreach assistance needed to save animals and help people keep their pets during difficult economic times.
The entry fee is a $1 donation; fifty percent of the proceeds will benefit AGN. Visitors who bring canned or bag dog food enter free. The event will be held from 8 – 3 p.m. at
38410 N. School House Road on the northwest corner of School House and Cave Creek roads in downtown Cave Creek.