CCUSD boots Hot Dog Guy off property
By Linda Bentley | March 3, 2010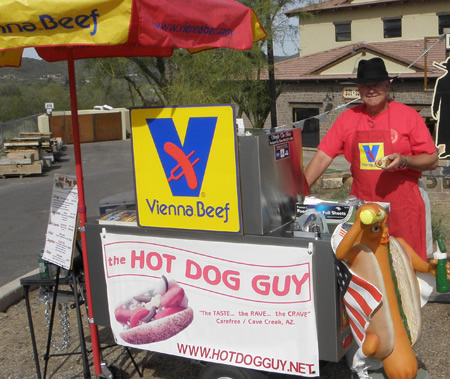 After being kicked off the corner of School House and Cave Creek roads by Cave Creek Unified School District, Jerry Vicena, AKA the Hot Dog Guy, has temporarily relocated to Spur Cross Road just north of Cave Creek Road. Photo by Linda Bentley


Whose property is it anyway?
CCUSD – On Friday, Feb. 12, Cave Creek Unified School District Associate Superintendent of Finance Kent Frison performed what Jerry Vicena, AKA the Hot Dog Guy, described as a drive-by interrogation.

Without so much as introducing himself or getting out of his vehicle, Frison asked Vicena what he was doing there and who gave him permission.

Vicena said he "replied nicely" and told him Maureen Racz, principal of Career Success, provided him with written permission to be there.

Frison, who had yet to identify himself, told him, "She doesn't have the authority."
That was when Vicena asked, "Who the heck are you?"

Vicena said Frison fumbled around for his ID and told Vicena, "I'm the assistant administrator for CCUSD93" and drove off.

According to Vicena, Frison went directly over to Career Success.

About 30 minutes later, Racz came out with a note containing Frison's name and phone number and said, "He wants you to call him … I don't think he wants you on this property."

Vicena called and left a voice mail for Frison on Saturday, realizing he probably wouldn't reach him but wanted to provide the courtesy of a phone call.

Since Monday was President's Day, Vicena figured school was closed and he wouldn't reach Frison, so he called instead on Wednesday, leaving another voice message.

Vicena never received a return call from Frison that week.

On the following Tuesday, Feb. 23, Vicena was visited by two Cave Creek Town Marshal deputies, advising him he needed to leave the premises due to lack of authorization.

Vicena presented his licensing, letter of authorization and explained he had placed two calls to Frison.

Nonetheless, he was asked to vacate the premises.

Vicena said he was incensed that Frison had time to call the town marshal's office but not return his phone calls. Despite Frison knowing exactly where Vicena was working, he never made any effort to talk to him.

Vicena placed a third call to Frison that Wednesday and left another voice message.
Frison finally returned Vicena's call on Thursday, Feb. 25.

Vicena explained he could provide $1 million liability insurance coverage but said Frison told him if he allowed Vicena to use the space, he would have to allow anyone permission to use space on that corner, which Vicena calls "absurd logic."

For four and a half months, Vicena has operated his hot dog cart at the corner of School House and Cave Creek roads, occupying a 12-foot by 12-foot area of the parking lot, which he says he leaves cleaner everyday than when he arrives, after obtaining his licensing from Maricopa County Department of Health, a business license from the town and what he believed was the "owner's permission."

Exactly who is the owner of the property?

The answer seems to fluctuate with administrations at both the state and district level.
When CCUSD was building Lone Mountain Elementary School, the district was told the money it received from the Arizona School Facilities Board (SFB) compensated the district for the equivalent square footage of the old elementary school, which is currently being leased to Ventana and Career Success charter schools.

Therefore, the district was told, any proceeds from leasing or sale of the property would go to the state.

The district has never forwarded any proceeds to the state.

A year later, CCUSD asked the SFB if the district were to sell the old elementary school property if it could keep the proceeds.

The SFB told the district "no" because it had already been compensated for that square footage in money provided to build Lone Mountain Elementary.

The district asked again the following year and the answer was still no.

When the district subsequently posed the question about whether or not it could keep the proceeds from selling the property, new people at the SFB, apparently unaware of its previous decision in the matter, said yes.

So, even though the district was aware it had already been compensated for old elementary school, it continued to keep lease proceeds and now that it's thinking about selling the property, will keep the proceeds from the sale as well.

In any event, the school property belongs to the taxpayers.

When Sonoran News asked Superintendent Debbi Burdick what prompted the district to have Vicena cease operations and if someone had registered a complaint, she responded, "Career Success is leasing the property from CCUSD. Likewise, we cannot lease to two entities for the same piece of property. Career Success had no authority to allow a vendor to use the corner property. There was no complaint issued – Kent routinely visits all facilities and he saw Mr. Vicena in his cart on the property.

"Let me know if I can answer any additional questions for you."

Sonoran News submitted a public records request for a copy of the document(s) granting permission for the various donation bins located on the grounds of the old elementary school leased to Ventana and Career Success. They've been there for several years.

Burdick responded, "We do not have any documents granting permission for the various bins. We will be looking into how they came to be there and I will let you know what I find out. Kent tried to get the information today but is waiting for call backs."

Vicena said teachers at Career Success brought students to his business where they talked about entrepreneurship in America.

After finding himself unemployed twice from traditional jobs within an 18-month period, Vicena did his research, got all his ducks in a row and invested $6,500 in savings in his hot dog business, something he said he never would have done without first securing a location.

Vicena said it "took a lot of pride and passion," not to mention hard work, to serve what he says, and many agree, are the "finest Chicago and regional style" hot dogs, using local suppliers, Basha's for his fresh-baked buns and sauce from Suzanne's Hot Stuff.

So, as the district blames the community for not approving the K-3 override and its dismissal of a few teachers, it apparently has no qualms about kicking a member of the community out of a job.

The good news is the Hot Dog Guy has temporarily relocated to Spur Cross Station on Spur Cross Road, just north of Cave Creek Road, where you can find him Tuesday through Saturday from 10:30 a.m. until 2 p.m.

It's a less visible spot than his former location, for which Vicena would still like to negotiate some sort of agreement with CCUSD, and business is down about 30 percent as a result.
Visit www.hotdogguy.net to learn more about Vicena and his Hot Dog Guy business.