DeGrenier new Head Coach for Fossil Ridge H.S., Fort Collins, Colo.
By Pete Mohr | March 3, 2010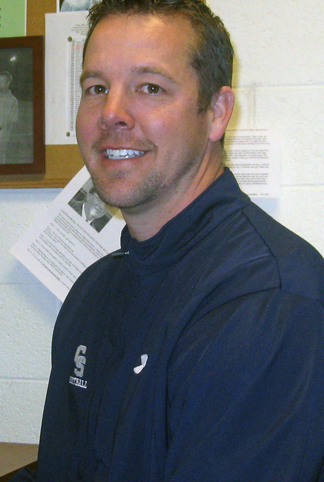 CSHS – As announced in Sonoran News, Feb. 17-23, Chad DeGrenier, 36, has resigned as Cactus Shadows head football coach to accept the head coaching position at Fossil Ridge High School, Fort Collins, Colo. DeGrenier will continue his physical education teaching responsibilities at CSHS through the end of the current school year.

Principal Steve Bebee to Sonoran News: "Obviously, last season will be my only opportunity to have worked with Chad; but clearly, his coaching leadership was instrumental in the team's 11-1 success. Cactus Shadows football is going to miss him. We wish him well." Bebee and Athletic Director Mark Huston are assembling a search committee, hoping to have DeGrenier's successor on board by the anticipated May 3 start of Spring Practice.

"Coach D." will relocate to Fort Collins by the June 1 start of his new squad's summer weight training and conditioning program. His wife, Nicole, and their two-year old daughter, Brooke Michelle, will join him shortly thereafter. "Everything we love is here in Arizona," DeGrenier acknowledged, "but I couldn't decline this opportunity – the potential availability of more college scholarships for my players (citing nine Division II colleges in Colorado); greater interaction for me with a Division I coaching staff (Colorado State University); and perhaps most importantly, the challenge of building a high school football program one more time."

Several days after (Tucson) Sabino had shockingly bounced the favored Falcons from the State Playoffs, DeGrenier's college roommate at Washington State, Barry Limon, now a P.E. teacher at a Fort Collins middle school, called to alert him that the head football coaching position at Fossil Ridge was about to become available. "Barry kept after me, and kept after me, until I finally submitted my formal applicaton," DeGrenier amusedly recalled. He was hired several weeks ago after his final interview with Fossil Ridge Athletic Director Ken Dennin. "He took a program from an 0-10 season to a state championship in only two years. That definitely impressed us. We believe that Coach DeGrenier is the man who can help build our football program," Dennin stated.

Chad DeGrenier knows that won't be easy. Fossil Ridge opened in 2004 and has posted only one winning football season. DeGrenier's first task for his SaberCats? Putting together his staff before Colorado's permitted "full pads" pre-season practice in late July.

What will be most difficult for "Coach D." in leaving Cactus Shadows? Without hesitation he answers, "Saying goodbye to Chris (Frederiksen) and Matt (Bradshaw). Chris has been with me since 'Day One' and I can't say enough about what Coach Bradshaw has done for me and our program. The closeness I've enjoyed with them has really meant a lot to me."

DeGrenier also acknowledged (then) CCUSD Superintendent John Gordon "for giving me the opportunity to coach Cactus Shadows football," his father, Jack DeGrenier, "for his coaching support and encouragement," and football parents Kevin Aholt, Jim Manship, Tom Foley and Ryan Patchak. "Those friends really stood by me during the 2004 season when we went 0-10."
Coach, wishing you and your family all the best in Colorado!
CSHS freshman Cassie Miller named to U.S. Soccer National Team (U15 Girls)
By Pete Mohr | February 24, 2010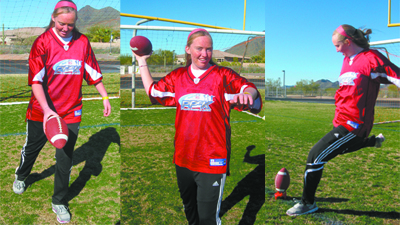 CSHS – Her birth certificate records her given name as "Carissa." Her Cactus Shadows classmates and friends know her as "Cassie." A Sereno Club soccer dad has nicknamed her "El Gato" for her cat-like quickness and agility at her goalkeeper position. Whatever you may prefer to call her, this winter of 2010 is one that Cassie Miller will not soon forget – if ever.

On Sunday, Jan. 17, between the 3rd and 4th quarters of the San Diego Chargers' upset by the visiting New York Jets, a National Football League executive presented Cassie as the national winner of Girls 15-and-under Division in the NFL's annual "Punt, Pass & Kick Competition." Representing the Arizona Cardinals, Cassie defeated regional winners from the Denver Broncos, Seattle Seahawks and Atlanta Falcons. She had been State runner-up in 2007, forgot the entry deadline by three days in 2008, but came back to win at the Cardinals-Carolina Panthers game last October.

"I was shocked when I was announced as the national winner," she remembers, "because the Denver girl, a 15-year-old from Pueblo, Colo., had been competing – and winning – since she was eight!" She credits Falcon placekicker, senior Bryce Redmond, with "adding 15-20 yards to my kick." Creeker Grandmother Virginia Von Dran wants her granddaughter to retire a champion; but Cassie, whose 15th birthday arrives April 28, plans to defend her title, soccer commitments and obligations permitting.

Ah, yes, her soccer. During the week of Feb. 13-20, Cassie competed at the U.S. Soccer National Team training center, Carson, Calif., for the goalkeeper's position on the U15 Girls team. She won! This modest, quietly good-natured young lady admitted to Sonoran News, "I'm excited! I've worked hard all these years; and now, I've realized the dream I've always had." She returned March 1 from five days training at the prestigious U.S. Club (iD2) facilities in Fort Lauderdale, Fla. What's ahead for "El Gato" in spring and summer? "More training camps," she responds enthusiastically.

PP&K is for fun. National/World-level soccer is, and will continue to be, her sole athletic goal. World Cup team in 2012? Maybe, but probably unrealistic for a 17-year old goalie. The 2014 Olympics? Why not? Good luck, Cassie!