Third ranked CSHS vs. #2 Apollo in Semifinals
By Pete Mohr | February 24, 2010
CSHS – Assembling the four Lady Falcons for the Front-Page Sidebar photo after their 57-44 Quarterfinals home win over tough (Vail) Cienega, this writer observed, "Down 7-15 early in the 2nd quarter?! You gals could've folded like a doggone tent!" With fire in her eyes, senior point guard Molly Shoulders, whose drives for lay- ups had fueled the LadyBirds' comeback to a 19-18 halftime lead, snapped, "No! That's not us! Not anymore!" Determination.

I'm not much of a stat man, but consider this one: for the Lady Bobcats, Alyssa Deal (16, three "threes") and Megan Plecencia (15, four "treys") were two of only five Cienega scorers. Head Coach Ryan Pletnick rotated nine Lady Falcons onto the floor, eight of whom scored. Depth.

Coach Pletnick knows that it will take determination and depth to slow the high-flying Apollo Lady Hawks (70-42 Quarterfinals runaway winners over Sahuaro) into a half-court game: "They are very athletic, and they run, run and run some more. We can't get into a track meet with them. Got to get back on defense with every change of possession." Lady Falcons should have the edge in both rebounding and three point shooting.

Big players make big plays in big games. That's what Co-Captain Maria Carranza will continue to do come Thursday. Against Cienega, Carranza put up sixteen 2nd half points, nailing 10 of 11 free throws in the 4th quarter with Cienga having to foul for possession. She killed 'em!

Write it down: the Ladies will upset Apollo; and that momentum will soar them to their first State Championship by edging rival Shadow Mountain, the likely winner over Prescott in the other Semifinal matchup.

Sorry I can't be at Jobing.com. But hey, in 2006, I was M.I.A. at the Baseball Falcons (work) and Football Falcons (flu) State Championships. It's possible that for the Lady Falcons, I just may be their "absentee" good luck charm! I sure hope so.


Baseball 'Birds hope to debut in Tucson sun
By Pete Mohr | February 24, 2010

"Cowboy Classic" hosts competitive field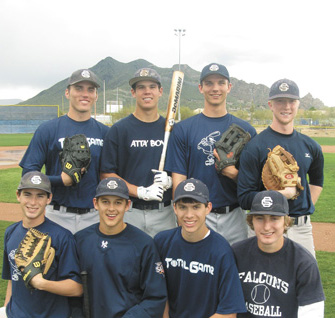 FALCON FIELD – If it would ever stop raining, new Head Coach Mike Baker might have a full practice opportunity to get his Baseball Falcons ready for their Feb. 25-27 appearance in Tucson's "Cowboy Classic." Rained out of their Saturday scrimmage at Falcon Field against Tempe, Monday's practice wasn't much drier, if at all. Coach Baker knows that until at least mid-April, baseball weather in the Desert Foothills is a crapshoot.

"Coach Mike": "Hopefully we can get in solid practices on Tuesday and Wednesday before departing for Tucson. We're looking forward to the tournament, which initially matches us against three Tucson schools (Sahuaro, Sabino and Catalina Foothills) that consistently field strong baseball teams. We don't know much about our first opponent, Cholla. We expect to face Sahuaro's ace, Jake Cole, a big right-hander, one of the top high school prospects in Arizona."

Falcons will open at home, Thursday, March 4, hosting Raymond Kellis, 7 p.m. first pitch. Sonoran News wishes Coach Baker, his staff and the Falcons a successful season. "Play ball!"
2010 VARSITY ROSTER
(in alphabetical order)
Marc Brenner SR P/OF
Logan Davis SR SS/P
Brandon Decker SR C
Brady Dombrowski SR P
Co-Capt. Charlie Dominick JR IF
Joey Ford JR OF/P
Nick Francis SR OF/P
Cameron Larson JR C/OF
Co-Capt. Jaron Long SR P/IF
Miles Muelich JR OF
Ryan Nemger JR P/OF
Brent Nurre JR IF
Max Patterson JR IF/OF
Sean O'Grady SO OF/P
Anthony Rosetto SR P
Connor Sabanosh JR C
A.J. Zygutis SR IF