This is dedicated to the ones I love …
By Cliff Faver, DVM | February 17, 2010
Internal Parasite Testing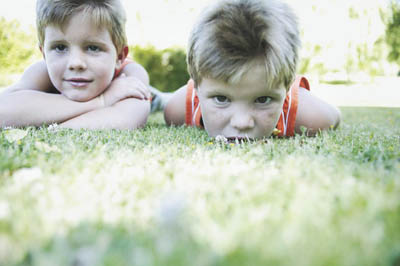 As a veterinarian, it is our responsibility as well as our dutiful obligation, to wear many hats. We are often called upon to act as dentists, surgeons, nutritionists and trainers just to name a few. Today I need to appeal to you as a concerned parent.

As a father, I need to emphasize the importance of having pets in our children's lives. They teach unconditional love, responsibility, and commitment. Our kids are the recipients of loyal companionship that is often too difficult to find in their two-legged friends. All this love and closeness is not without risk. This risk is internal parasites. Our pets can carry several diseases that are transferable to humans; these diseases are categorized as "zoonotic diseases." They are potentially dangerous, especially to our young children. The top two internal parasites are roundworms and hookworms. Most parasites can be found in sandboxes, dirt, grass – a natural playground for kids. Parasites are released through an animal's feces. The eggs can live in an environment for months, sometimes even years. In fact, studies have shown that in order to eliminate the threat of roundworms in an infected yard, you may have to either burn off the topsoil or remove up to 6 inches of turf. Some other common and easily treatable internal parasites that can pass from pets to people include: giardia, tapeworms, crypto-sporidium, and toxoplasma.

Often times, we as veterinarians recommend that our clients bring in a stool sample for internal parasite testing. Frequently this request is met with distaste or with an attitude of non-importance. We understand the reluctance to run tests where no apparent symptoms of illness are present, but while parasites can indeed make your pet sick, these same parasites can cause serious health problems in humans. This can include the possibility of blindness, mental retardation, or even death, especially to children.

As both a vet and a father I believe that any chance of parasitic disease is too great; especially knowing that it can be prevented by a simple test. Submit that stool sample today as recommended by your veterinarian for the life of your pet and the health of your family.