Eight seniors who'll be missed
By Pete Mohr | February 17, 2010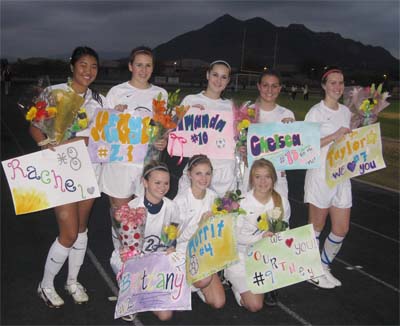 TUCSON – At Tucson High on Thursday evening, Feb. 11 with only 1:37 left in 2nd OT, State Semifinals, sophomore Saige Williams made a nifty touch pass to freshman Katelyn Mardeusz who carefully kicked into an open net the 1-1 tying goal; but for the second time in three months, Prescott edged the Lady Falcons [2-1 (4-2)] in a penalty kick shootout.
For Coach Jeff Vittorio's Soccer Ladies, it was a dramatically disappointing end to a great season, evidenced by the Jan. 28 "Senior Night" smiles from eight players who'll be missed.
(Front, l-r, parents in parentheses) Brittany Butcher (John and Jean Butcher), Merritt Thompson (Bob and Cindy Thompson), Courtney Snyder (Mark and Denise Snyder); (Back, l-r) Rachel Connor (David and Laura Connor), Tri-Captain Megan Baldacci (Jeff and Rose Baldacci), Tri-Captain Amanda Shimkus (Ed and Dolce Shimkus), Chelsea Gray (John and Silvana Gray), Taylor Ortman (Shirley Ortman).
Congratulations to all Soccer Gals. Your late comeback in the Tucson cold showed a lot of heart!
Third ranked Lady Falcons vs. #14 Dysart
By Pete Mohr | February 17, 2010

Hoop Guys get playoff shaft!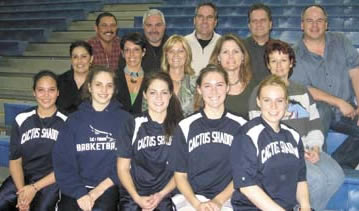 CSHS – Last home game. Guy Falcons, ranked #13 in A.I.A. Power Points, are right where they needed to be in order to cinch a State Playoffs berth. Leading Notre Dame, 40-30, at the end of three periods, they couldn't close the deal, done in with only five seconds left by Saints quarterback Will King, whose "three" from outside the right arc had nothing but net from the time it left his hand. A desperation shot by Kyle Gunter, off a great pass from Andrew Stauth, clanked the rim.

Saints win, 49-48. Season over – even with the 'Birds ranking #16 in final Power Points standings. Shafted! Sonoran News press deadline mandates explanation next issue.

Meanwhile, at Notre Dame, Head Coach Ryan Pletnick's Lady Falcons had problems of their own (N.D.'s "Senior Night" and poor shooting: Coach Pletnick) before escaping with a 45-43 win. Third place Lady- Birds host #14 Dysart in State 1st Round. (See Front-Page Sidebar for results.) Coach Pletnick: "They (Dysart) have three guards who put up 900 shots during the regular season, so we know who we have to stop." If the Ladies win, they'll welcome the #6 Cienega vs. #11 Moon Valley victor in Friday's Quarterfinals, 7 p.m. tip-off. Let's have a big home crowd to send the Lady Falcons off to their fifth consecutive "Final Four." May "five" be their lucky number!

Sorry, Guys. Go get 'em, Ladies!