Second Annual "Out West Art Fest" Fine Art Show
February 17, 2010

Feb. 26 – 28 at Stagecoach Village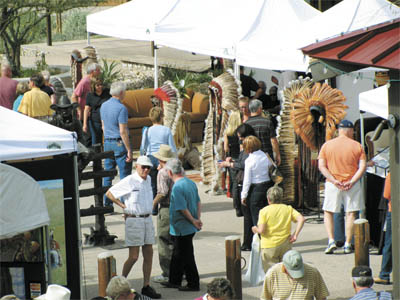 CAVE CREEK – Back by popular demand, the non-profit Sonoran Arts League will once again host "Out West Art Fest," the first, original fine art show that took place last year at Stagecoach Village in Cave Creek. The juried show is one of the few Arizona fine art shows coordinated by artists and takes place Friday – Sunday, Feb. 26 – 28 from 10 a.m. to 5 p.m. at Stagecoach Village, 7100 E. Cave Creek Road, in Cave Creek.

Michelle Russell, event co-chair, said the number of art shows in the area can sometimes confuse the general public.

"The Sonoran Arts League was honored to be the first fine art show at Stagecoach Village last year and we were very fortunate to receive a tremendous response," Russell said. "Our juried show is truly unique in that we, as artists coordinating the show, go the extra mile to ensure that the art exhibited is of high caliber and original, and that our patrons have a very positive experience at the show."

Russell said the Western setting by no means indicates the type of art that will be exhibited.
"Out West Art Fest showcases a mix of both contemporary and Western artists," she said. "This year's event feature more than 75 local and nationally-acclaimed painters, sculptors, jewelers, wood and glass artists, photographers, and artists working with mixed media."

More Eco-Friendly Art
Russell said several participating artists will exhibit "green" art, made from found and recyclable objects. In addition, many painters, sculptors, and other types of artists have switched to more eco-friendly products to create their original pieces of fine art.

"Companies that produce products for artists are thinking about longevity and are producing more eco-friendly paints, sealers, clays, glazes, and equipment," she said.

Russell and her husband, Kevin, will exhibit colorful, contemporary wall sculptures, mirrors and other mixed media original pieces of art during the event.

Sally Watters is another talented artist who has seen a deeper appreciation for "green" fine art.

"People are more aware of and appreciate work created with recycled and found objects," Watters said. "I am finding more shows actually have jury selections that fall under the "recycled category."

Watters creates functional and decorative art that incorporates found objects such as beach glass from the shores of Lake Superior, metal pieces, driftwood and sandstone, similar to flagstone. During "Out West Art Fest," she will display and sell beautiful, contemporary jewelry as well as mirrors and vases.

Among the diverse artists who will exhibit at "Out West Art Fest" is the event's featured artist, stone and bronze sculptor Mike Greenfield. The juried fine art show will also feature a dynamic line-up of live music including Native American flutist Lorrie Sarafin, Jazz keyboardist Dave Kenney, and keyboardist Grady Soine. In addition, as guests stroll through the show, they can indulge in a variety of cuisine served by several local restaurants that will participate in the show.

Admission to "Out West Art Fest" is FREE. Visit www.SonoranArtsLeague.org or call
480-575-6624 for more information.