Cave Creek Chamber After Dark mixer
February 10, 2010


When: Thursday, Feb. 18 at 6 p.m.
Where: Bill Junge at Los Mesquites Taqueria is our host! Location: 37645 N. Cave Creek Road. Yummy Mexican food and drinks (cash bar).
What: Great mingling and networking!
1) Optional Raffle - Bring an item representative of your establishment (or Cave Creek) to raffle off.
2) Bring along any updates and additional information for your website listing.
3) Questions? Contact Annette 602-820-3588 or Bill at 480-488-0489.
If you haven't been able to make one of our After Darks yet, then make this one your first!
See ya there!

~ Your Cave Creek Chamber
Megan Hurley, 8-year-old entrepreneur/ Fashion Designer knows to give back!

February 10, 2010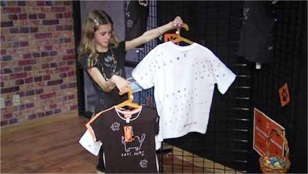 PHOENIX – Megan Hurley is in the third grade and is already quite the force when it comes to excelling. She has started her own business and clothing line that helps animals, at the age of 8.

About a year ago, Megan approached her dad with an idea to put some of her artwork designs onto t-shirts and sell them to help animals. She loves to draw artwork designs and make jewelry and scarves. She even helped her dad design her website and came up with the name for her clothing line, "Purrfect Clothing by Megan Leah." Megan is more than the face of the business; she is the brains behind it as well. Every aspect of the business gets passed and approved by her. Her business motto is, "saving the world by helping one animal at a time…".

Megan already knows the importance of giving back too. A portion of every sale is donated to an animal-based charity. Megan is a huge animal lover and wants to spend time helping animals needing help; she has four cats and two dogs of her own, all from the Humane Society.

She is selling her clothing line at the Off-Off Broadway acting studio in Phoenix, an acting studio for kids ranging from 4 to 18 years of age. She also sells online at her website, www.PurrfectClothing.com.