DFL celebrates 56 years with Cave Creek History presentations
February 3, 2010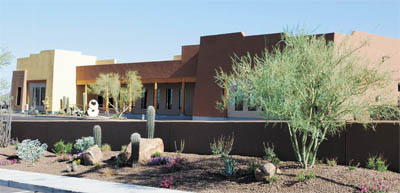 CAVE CREEK – On Sunday, Feb. 14, all of the Friends, members and the general public are invited to join the Desert Foothills Library in celebrating 56 years of serving the community. The Birthday Party will start at noon and continue until 4 p.m. A special cake will be served in the Friends Bookstore along with coffee and punch and volunteers will provide tours of the Library. In addition, tickets will be on sale for the upcoming history presentations titled: Cave Creek from the Wild West to the Present. Three local speakers will share their special recollections and knowledge about the historical events in Cave Creek and the Library dating from the 1890's through 2000. The schedule for these presentations is as follows:
• Tuesday, March 9: 5:30 to 7 p.m. Patrick Grady – Author of Homesteading Along the Creek: Pioneer Life in Cave Creek, Arizona 1890 - 1940.
• Tuesday, March 16: 5:30 to 7 p.m. Beverly Metcalf Brooks – Longtime Cave Creek resident, Cave Creek Museum volunteer and Historian.
• Tuesday, March 23: 5:30 to 7 p.m. Corky Cockburn – DFL Historian, long-time resident and contributor to The Library Book, Check it Out.
Tickets for the presentations are priced at $10 each or $20 for all three. They are sponsored by The Friends of DFL and proceeds will be donated to the library. The Desert Foothills Library is located at 38443 N. Schoolhouse Road in Cave Creek.
For more information call 480 488-2286 or visit
www.desertfoothillslibrary.org