Fees should come as no surprise to vendors
By Linda Bentley | January 13, 2010
CAREFREE – Councilman Bob Coady asked to pull the paid bills register from the consent agenda during the Jan. 5 meeting to question the $1,326.17 court desk for Kevin Stuckey, stating the amount, in light of the town trying to rein in costs, seemed extravagant for a desk.
Town Accountant Jim Keen stated it wasn't a desk but a "return" to go with Stuckey's existing desk, because there is more room in the new court space.
Coady also questioned the $300 paid to Greg Starr for the town's Garden Seminar and said, "I thought the Garden Seminars were free."
Town Clerk Betsy Wise responded, "They are, but the speakers get paid," adding donations are collected to offset the cost.
During Call to the Public, Gary Hayward said he had a question for council, specifically councilmen Coady and Doug Stavoe.
He wanted to know why a tree recycling event was held in Cave Creek that drew people away from Carefree so rather than spending their money in Carefree, they were drawn to spend their money with merchants in Cave Creek.
He said Lowe's gave out 10 percent discount coupons to people who recycled their Christmas trees there and Lowe's estimated 90 percent of the people who recycled their trees shopped in the store afterward.
Hayward stated, "You owe the citizens of Carefree an apology."
Greg Gardner was called to speak next but said, "Mr. Hayward took the words out of my mouth."
However, Anthony Olivieri from Lowe's stopped by the TREECYLE event in Cave Creek on Saturday, bringing fruit and cookies for the volunteers. Olivieri apologized to Coady for any perceived insult to the long-standing Carefree/Cave Creek event and said had he known about it, Lowe's would have never scheduled a competing event.
Coady has since invited Olivieri to attend the town's Green Committee meetings.
Margaret Stewart spoke in praise of town staff for always being courteous and helpful. She said, "These are talented people … they have the tact and civility to make you look good. Civility costs you nothing."
Keen updated council on its finances, stating the town had $5.2 million in the bank and "right now" it was still $474,014 short in revenue versus expenses.
Mayor David Schwan said the town has identified "savings" and then corrected himself, "I'm told I shouldn't say the word 'savings,' but we've identified expenses we will not incur. He said the town has $4.2 million in unrestricted cash in the bank.
Citing the revenue trend in Maricopa County is 20 percent down from last year, Keen said, we're actually 17.58 percent down as of the end of November.
However, using a figure of 20 percent less than what the town budgeted, Keen said $138,000 would be a conservative estimate of what the town might have to take out of reserves to make up a shortfall.
When Coady questioned what the town was doing to lower its court expenses, Schwan said Judge K.C. Skull was talking with Cave Creek to see how they can possibly consolidate to save money.
Coady responded, "I believe we now have courts doing legislative work. We fund the court."
Schwan stated he was asking the judge and administrator to look at expenses and said, "Last year Judge Skull paid for his own training in downtown Phoenix out of his own pocket."
Both Coady and Councilman Peter Koteas expressed their disagreement with Schwan's tasking the court to determine its own budget cuts.
Stavoe asked Keen if the financial report was indicating sales tax in Carefree was 29.7 percent lower for November 2009 than in November 2008 and if there was potential for a $628,000 shortfall.
Schwan interrupted to say, "That's my report. You should be asking me questions."
Stavoe said, "I understand. I'm just asking his opinion."
Keen responded, "I don't believe we'll be off by that amount."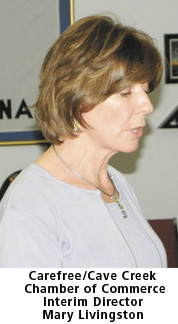 Council voted unanimously to approve the November financial report.
Carefree/Cave Creek Chamber of Commerce Interim Director Mary Livingston provided council with its quarterly report and said the selection committee is reviewing applicants for director, which should be announced next month.
Presenting the next agenda item, Wise said Ray Klemp, owner of AZ Wine, had requested an extension of premises to provide wine, beer and Margaritas for the town's Concerts in the Garden events, which was unanimously recommended for approved by council.
Town Administrator/Planning Director Gary Neiss stated, "As you know, we had a rich discussion last month about business licenses," and said a resolution could amend the vendor fee program as part of the special event permit application process and provided a fee structure he felt was competitive with other municipalities.
He said the fees would be collected by the event organizer, who would submit a single payment to the town.
Stavoe said the fees seemed reasonable, while Councilman Bob Gemmill stated, "This shouldn't be a big surprise to vendors," citing Carefree was probably the only town that doesn't charge a fee.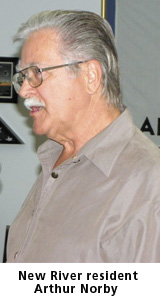 Gimmell recommended implementing the fees in the fall.
Stavoe didn't believe they should wait that long and suggested implementing the vendor fees right after any currently scheduled events.
During public comment, New River resident Arthur Norby said he's represented by a gallery on Easy Street and while he was neither for or against the fees, if they made the fees too high it could drive artists away.
"Not being critical of how events have been run," Norby said, "The success of events has to be measured by the impact on merchants. Keep in mind artists don't have to come here."
Gemmill said special events weren't intended to be the "jackpot" but to bring people to the town and plant a seed about coming to Carefree.