Studio C4 showcases new art exhibit by Bill Foss

January 13, 2010


'Paintings On Metal' on display through January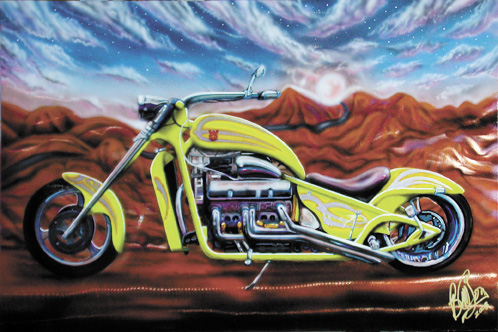 CAVE CREEK – Internationally renowned artist Bill Foss makes his debut at Studio C4 throughout the month of January showcasing artwork on metal inspired by rock and roll and spirituality. His most famous series include the "Rock and Roll Series," "Wingmakers," "Super Divine," "Scared Planet of Earth," and "Choppers on Copper."

Inspired by Alex Grey and Salvador Dali, Foss says, "The amazing aspect of art is the unique ability to translate to the viewer, a personal story that reminds us of the simple joys in life. Art inspires us all to open toward unique levels of creativity." On Jan. 16 Studio C4 will host a viewing party from 6 – 9 p.m. with live music by the artist himself.

Foss's work has been displayed at many well known art exhibitions including the New York Metropolitan Fine Arts Exhibit, the San Francisco Palace of Fine Arts, the 4th Annual Oneness Festival in Pasadena, and the 10th Annual International Week Festival in Vienna, among others. Foss is the co-founder of the Phoenix Historic Arts Cooperative.

Studio C4 is located at 6033 E. Cave Creek Road in Cave Creek. For more information visit www.cavecreekcoffee.com or call 480-488-0603.
Carefee Fine Art and Wine Festival ranked Top 10 Art Fair nationwide
January 13, 2010


CAREFREE – Thunderbird Artists' Carefree Fine Art and Wine Festival has been ranked number 10 in the top 25 Art Fairs nationwide, according to Greg Lawler's Art Fair Sourcebook. The prestigious 2010 ranking was announced this week, prior to the 17th annual event taking place from 10 a.m. – 5 p.m. Friday through Sunday, Jan. 15 – 17 at Carefree Town Center, 101 Easy Street, in Carefree. The popular fine art show is also being considered for publication in The Harris List of Nation's Best Arts and Crafts Shows, one of the most discriminating lists available to fine artists and craftsmen.

"We're honored to receive such a high ranking, especially as Thunderbird Artists begins its 29th year of producing award-winning fine art and fine wine festivals throughout the Southwest," said Denise Dodson, vice president of Thunderbird Artists.

A family-run business that began with Dodson's mother, Judi Combs, Thunderbird Artists has received numerous accolades over the years. Dodson attributes much of the events' success to the participating artists.

The 17th Annual Carefree Fine Art and Wine Festival features more than 165 acclaimed artisans who will display and sell a wide variety of paintings, two-dimensional artwork, small, medium, and life-sized sculptures, bronzes, sparkling hand-blown glass, wood, clay, metal, stone, gourds, one-of-a-kind hand-crafted jewelry, exceptional photography, and more.

Watercolorist Jeanne Bonine, best known for her soft and lush larger-than-life floral paintings, has been chosen as Thunderbird Artists' 2010 season poster artist. The unveiling of her limited edition print, "Way to Wickenburg," will take place at this weekend's event. Only 250 prints are available.

Live entertainment features "Segovia of the Stick" Bob Culbertson. He will be joined by composer Jeffrey Michael on the keyboard, guitarist Patrick Ki and jazz musician Mark Maxwell.

A vast array of domestic and imported wines will be available for tasting. The $10 fee includes an engraved souvenir wine glass and six wine tasting tickets. Additional tickets may be purchased for $1.

Admission to the 17th Annual Carefree Fine Art and Wine Festival is $3, with complimentary admission for Carefree residents and children under 18. Parking is free.
For information, call 480-837-5637 or visit www.ThunderbirdArtists.com.