Rural/Metro rings out old year putting out fires
By Linda Bentley | January 6, 2010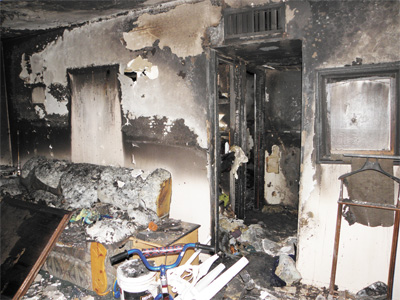 DESERT FOOTHILLS – At 2:45 p.m. on Monday, Dec. 28, Rural/Metro Fire responded to a call in the 6000 block of E. Cholla Drive in Cave Creek to find Roberta Lamoureux's home fully involved with heavy smoke and flames coming out the front door.

One engine each from Phoenix and Scottsdale joined Rural/Metro from both its Cave Creek and Carefree stations to knock out the blaze, which caused extensive damage to the kitchen, living room and one bedroom.

The cause of the fire was still under investigation but is suspected to have been electrical in nature.

The home was occupied by Lamoureux, her granddaughter and two great grandchildren at the time the fire broke out and, according to Lamoureux, everyone made it out safely except her cat, which perished in the fire.

According to Chief John Kraetz, as a Rural/Metro subscriber, Lamoureux is covered for fire service.

Those not enrolled as subscribers with Rural/Metro face are billed for the actual cost of providing services in the event of a fire, a cost that can run into the tens of thousands.

Lamoureux's home was the second residential fire Rural/Metro responded to since Christmas.

The first was at a home in the unincorporated county island area, which was believed to be caused by faulty Christmas lights that initially ignited some patio furniture.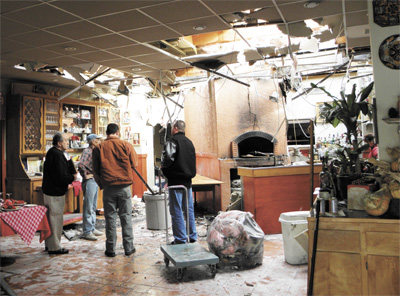 Then on the night of Dec. 29, Rural/Metro responded to a 911 call at Alberto Italian Cuisine, 7171 E. Cave Creek Road in Carefree.

When the engine left the Carefree Fire Station, firefighters said they could see flames coming through the roof.

Rural/Metro, joined by four Scottsdale engines and three from Phoenix, was successful in preventing the fire from spreading to the rest of the strip mall.

The fire was said to be caused by the wood burning oven, which was left burning after the restaurant closed for the night, doing an estimated $30,000 to $40,000 worth of structural damage.

Alberto Liani, the restaurant's owner, was already involved in cleaning up the mess on Wednesday morning as contractors milled about assessing the scope of work required to repair the building.

Because the restaurant is located in Carefree, the services provided by Rural/Metro are covered by the town's master contract, which is paid for with sales tax revenue.

The strip mall, known as Mariachi Plaza, was sold at auction on Nov. 16 in a trustee sale to LNV Corporation for a credit bid of $1,505,700 in lieu of cash.

LNV, a subsidiary of Beal Bank Nevada, was assigned the beneficial interest in the deed of trust when First National Bank of Arizona, the original trustee, was shuttered by the FDIC.

Above photo: A fire at Alberto Italian Cuisine in Carefree, started by a wood oven left burning after closing on Dec. 29, did an estimated $30,000 to $40,000 in structural damage. Owner Alberto Liani (l) is pictured the following morning with contractors assessing the required repairs while clean-up was already underway.
Photos by Linda Bentley