Phoenix Herpetological Society – north Scottsdale's 'confidential' visitor attraction
By Pete Mohr | December 30, 2009
SCOTTSDALE – On an immediate referral from Arizona Department of Game and Fish, DPS made an emergency call to Phoenix Herpetological Society (PHS) at about 2 a.m., Feb. 18, 2005. Near Casa Grande on I-10, DPS had just busted an illegal exotic pet dealer who was on the lam from California to Georgia. In his trailer were 32 alligators of varying sizes!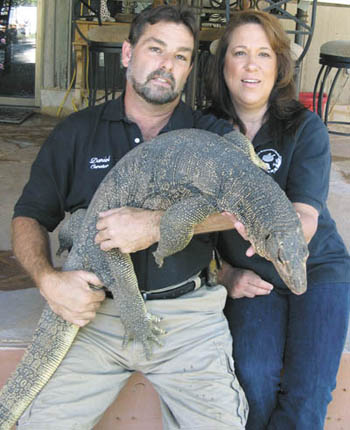 PHS principals Dan Marchand and Debbie Gibson agreed to accept the confiscated gators. By early morning, all had been removed to the Society's compound in north Scottsdale, whose location, given the dangerous nature of a goodly number of its residents (48 species of venomous snakes), must remain confidential. Visitors are expected to respect that confidentiality.

Alligators, cobras, all 15 varieties of rattlesnakes that inhabit Arizona: you can see 'em all up close – and safe – at PHS.

Reptile rescues and those abandoned are the principal sources of PHS's population. When that cute baby iguana purchased from the pet store grows to a length of four feet, he/she isn't so cute any longer. All-too-often, they are abandoned by their owners – or turned loose.

Founded by Dan, Debbie and Russ Johnson, a retired trucking company owner, in 2001, PHS is a non-profit Section 503(c) corporation, financially supported by individual donations and generous grants from local foundations.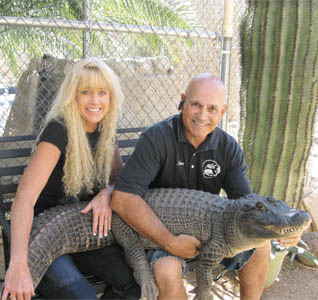 Students, scout troops and individual volunteers help maintain and expand the Society's facilities. PHS can always use more volunteers, with each applicant meticulously screened.
Each April through October, PHS serves as Game and Fish's designated adoption facility for an Arizona native reptile, the Desert Tortoise.

On-site tours and traveling exhibits can be scheduled by calling Dan at 602-550-7029 or Debbie at 480-223-3813. The Society's e-mail address is info@phoenixherp.org.

For visits there is a donation charge, fully tax deductible, of $10 per person (all ages). PHS's guarantee? A fascinating two hours!