Winners of the 'Gift of Food' Art Contest announced
December 30, 2009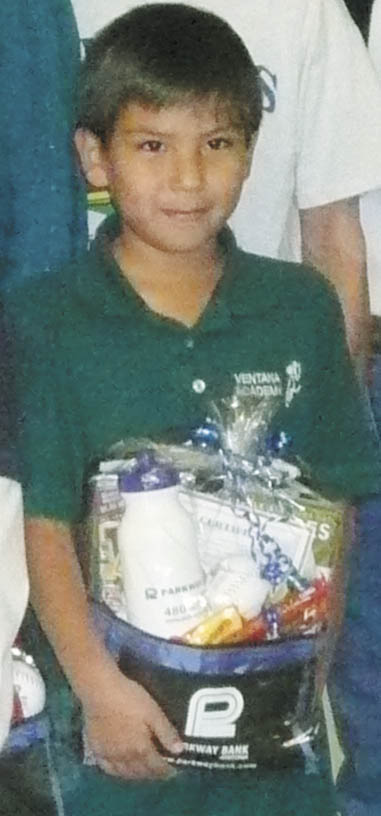 "The Gift of Food" Coloring/Art Contest was open to Kindergarten – 5th Grade students attending Ventana Academy. Kindergarten – 2nd Grade Students submitted their original colored artwork and the 3rd Grade – 5th Grade Students entered original artwork.
All entries were displayed at the Parkway Bank on Cave Creek Rd. and were judged by the general public including parents, students, school members, family and friends.
Each voter donated a "Non-Perishable or Canned Food Item," to the Foot Hills Food Bank in support of the theme "The Gift of Food." All of the donated items were accepted by Board President, David Shirey and Executive Director, Pam DiPietro. Representatives from the Carefree Kiwanis Group, John Loffman and Michael Moore calculated the votes.
The Grand Prize Winner, Sean Williams, 4th grade was awarded a $50 U.S. Savings Bond and Gift Basket, generously donated by Cynthia Adam, Branch Manager of Parkway Bank. Helen Shoulders, Principal of Ventana Academy, presented the Runner Ups Summer Bartkus, 1st grade and Abigail Massih, 1st grade each with a Gift Basket and $10 Gift Card, donated by both Parkway Bank and Ventana Academy.
Cooper's Art Brokerage House Grand Opening Event
December 30, 2009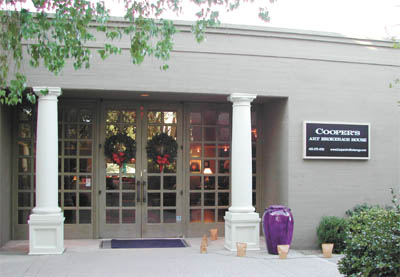 CAREFREE – Cooper's Art Brokerage House, which features original works and editions of Contemporary Southwest Art, is having its' Grand Opening Event on Friday, Jan. 8. The gallery will be open from 10 a.m. – 9 p.m. From 4 – 8 p.m. many of the artists will be in attendance to discuss their works of art and their backgrounds. A ribbon-cutting ceremony is scheduled for 6 p.m.

Artists who will be in attendance include Nocona Burgess, Melissa Melero, Jerry Harris, Stan Natchez, Melvin John, Chris Deverill, Manny Valenzuela, Alan Scott and Raymond Nordwall.
Cooper's is located northeast of the Sundial at 11 Sundial Circle in Carefree in the former American Sterling Bank building. Their collection includes pieces from the artists represented by Cooper's, as well as the secondary market. "We sell Museum art at affordable prices. Almost all of our artists have their work displayed in Museums and public/private collections." The Owner/Manager, Patricia Cooper Wesley, studied art and is a collector with a special interest in Southwest Art and the works of Native American Artists in particular.

"We are so proud to be able to present this collective body of work, and feel that we have created a destination gallery."