Grand jury indicts Maricopa County supervisors Stapley and Wilcox
By Linda Bentley | December 9, 2009
Criminal charges filed against presiding superior court judge named earlier in RICO lawsuit

PHOENIX – On Dec. 8, a grand jury indicted Maricopa County Supervisors Donald T. Stapley Jr. and Mary Rose Wilcox.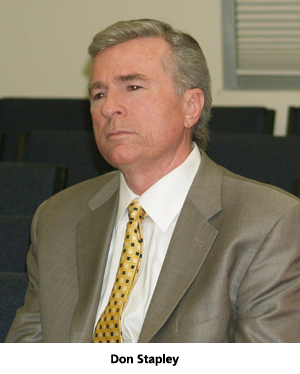 Stapley was indicted on two counts of fraudulent schemes and artifices, 19 counts of theft, and two counts each of perjury, forgery and false swearing.

One of the fraudulent schemes involved Stapley obtaining multi-million dollar loans from Mortgages Ltd., Choice Bank and/or Silver State Bank by overstating assets, understating liabilities and/or inaccurately answering loan application questions.

Stapley claimed as income over $15,000 a month in "option" payments from Conley Wolfswinkle's company ABCDW for the option to purchase land back, which eventually totaled over $1.5 million during the option terms.

However, those payments were not claimed as income for tax purposes while at the same time Stapley used the land as an asset and/or collateral on loan applications as he treated the same as an additional liability.

The second fraudulent scheme alleges Stapley solicited contributions to an account "Stapley for NACo" (National Association of Counties) for the purpose of running for an office in NACo.

According to the indictment, Stapley provided some donors with a letter from the law firm of Gallagher and Kennedy stating the donations were for his candidacy for NACo.

However, Stapley instead converted a large percentage of the proceeds for his own personal benefit to purchase items such as $6,000 in Bang and Olufson electronic equipment, $1,500 in hair implants, an $11,000 three-week family vacation in Hawaii to attend a short NACo conference, a family ski trip to Sundance, Utah, $400 candle holders, $10,000 for furniture for his home, flowers, massages, spa treatments, movie and theater tickets, city of Mesa services, a trip to Orlando with his son and friends and numerous airline tickets.

Stapley is also accused of knowingly making a false sworn statement, under penalty of perjury, by stating funds were transferred directly from Stapley for Supervisor Committee into his Stapley 08 account, and/or by certifying the incorrect amount.

In another false sworn statement, Stapley stated funds were directly transferred from Stapley for Supervisor Committee into his Stapley 08 account and certified no transfers from Stapley 08 account were made, despite him transferring money to his personal account then back and/or to Arroyo Pacific.

Stapley is also accused of knowingly converting donations, without lawful authority, with intent to deprive the other person of such property, including donations made to Stapley for NACo in the amount of $25,000 by Homebuilders Association, $10,000 by Farnsworth Companies, $10,000 by William Levine, $5,000 by Stardust Management, $5,000 by Goodman Schwartz, $5,000 by Cox Communications, $5,000 by Westcor, $2,000 by John Davenport, $1,500 by Horn and Associates, $1,000 by Austin Copeland and Reyes, $500 by Copper State Consulting, and several other contributions ranging in amounts from $50 to $500.


Wilcox was indicted for 12 counts of conflict of interest and eight counts each of perjury, forgery and false swearing.

According to the indictment, Wilcox, while serving as a member of the Maricopa County Board of Supervisors, had a substantial interest in certain decisions before the board but failed to reveal such interest in the official records and failed to recuse herself from participating in such decisions.

Wilcox failed to file required conflict paperwork with Maricopa County yet voted to give funds to Chicanos Por La Causa (CPLC) and/or its related company Prestamos, despite having an active loan with the organization and later obtaining additional loans.

She is also accused of using or attempting to use her position to secure things of value or benefits that would not ordinarily accrue to Wilcox in the performance of her official duties.
In 2002-2003 Wilcox had a $7,500 loan outstanding with CPLC's lending arm, Prestamos. In 2004-2005 she voted to provide CPLC funds.

In 2005, Wilcox obtained an additional $50,000 loan from CPLC. While that loan was outstanding, she voted in 2005-2006 to give CPLC contracts or grants.

In 2008, Wilcox obtained three loans from CPLC, one personal in the amount of $120,000 and two business loans totaling $240,000.

The indictments come on the heels of a RICO (Racketeer Influenced and Corrupt Organization) lawsuit filed on Dec. 1 by Maricopa County Attorney Andrew Thomas and Sheriff Joe Arpaio against the Maricopa County Board of Supervisors, leading Superior Court judges and a private law firm shared by the board and the court.

The complaint alleges the defendants have illegally conspired to block criminal investigations and prosecutions of themselves, particularly those related to the new $341 million Superior Court Tower and Stapley.

Then, on Dec. 9, Thomas and Arpaio filed a criminal complaint against Judge Gary Donahoe, who is also named as a defendant in the RICO complaint, for hindering prosecution, obstruction of justice and bribery.

A press release issued Wednesday afternoon by the Maricopa County Attorney's Office following a press conference stated, "Judge Donahoe had scheduled a hearing today on the board of supervisors' unprecedented request that the county attorney be barred from prosecuting them or other county employees for any crime. Such a hearing, which the MCAO regards as illegal, has apparently never before been held in Arizona history. It would have allowed, and all but ensured, that ongoing grand-jury matters, which are confidential by state statute, be aired in front of criminal defendants and suspects."

Donahoe has since vacated the hearing.

Thomas stated, "When persons who are charged with enforcing the law willfully misuse that authority to protect themselves or their benefactors from investigation or prosecution for possible crimes, that conduct will be prosecuted in accordance with the law."