Judith Durr receives national and state honors
December 2, 2009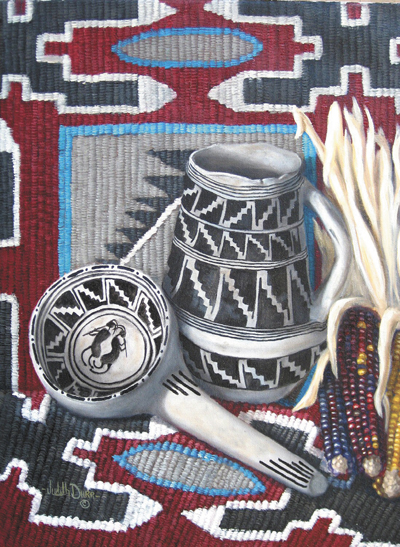 CAVE CREEK – Judith Durr created the poster for the Pueblo Grande Museum 2010. She will be a participant in the annual Native American Show – 2009, Saturday and Sunday, Dec. 12 – 13 at South Mountain Park. One hundred twenty of the finest artisans in the United States will be in attendance.
The Environmental Protection Agency chose Judith's painting, Whispers of the Past, for their 2009 Native American Heritage poster.
The Environmental Protection Agency has chosen Judith to create the poster for their publication of the "OPPTS Tribal News" Spring 2010 edition entitled, "Training and Innovation."
Although the body of Judy's work includes Western life, landscapes and historical research, she is best known for her exquisite still life paintings. These works reflect her Choctaw heritage, including her most noted native beaded moccasins and trademark background rugs.
More...
Five galleries showcase the latest in artwork and design
Cave Creek Art Night Friday, Dec. 11
December 2, 2009
CAVE CREEK – Cave Creek Gallery Association (Galeria Bellas Artes, D. Lyon Art Gallery, Level 9 Gallery, Steven DeWitt Perrin Gallery, Studio C4 Gallery) invites guests to stroll under starlight in the cool Cave Creek air this winter and enjoy distinctive paintings, sculptures, and more in a wide variety of styles from traditional to contemporary from some of the valley's most prominent artists.
"Christmas in Miniature"
D.Lyon-Art Gallery debuts a limited time "Christmas in Miniature" Art exhibit. An opening reception for the exhibit will be held on Friday, Dec. 11 from 6 p.m. – 9 p.m. in conjunction with Cave Creek Art Night.
Art by nationally recognized artist's 9" x 12" and smaller will be on display for your viewing and purchasing pleasure. In addition to Dustin Lyon's art many other contributors work will be featured as well, including Roger Lundskow, Susanne Nyberg, Gregory Sievers, Victor Martinez, Marty LeMessurier, Gerry Metz, Guadalupe Apodaca, Bill Shaddix and many others.
The "Christmas in Miniature" art exhibit and sale will be on display Dec. 11 through Jan. 2.
Ed Miller's "Funk Art"
On exhibit through December at Steven DeWitt Perrin Gallery: Funk Art by Ceramic Artisan Ed Miller! Ed's "Funk Art" teapots, trays, bowls, baskets, and bottles are so unique, colorful, and affordable that they make excellent gifts for family and/or special friends!
More value – more Christmas! Three artists – three art styles: Western Influence Realism/Contemporary Expressionism/Original Ceramic Ware at Steven DeWitt Perrin Gallery, 6140 E. Cave Creek Rd., Las Tiendas Shoppes in Downtown Historic Cave Creek. Call 480-575-1780.
Cave Creek Gallery Association Food Drive through Dec. 31 at
Steven DeWitt Perrin Gallery


Deposit your non-perishable food items inside the Steven DeWitt Perrin Gallery! For every $100 you spend in the gallery, artist Steven will donate $10 cash to the Foothills Food Bank!
"Art is a Part of You. Live With it."
Thank You!