Obituary
December 2, 2009
Leny J. Williams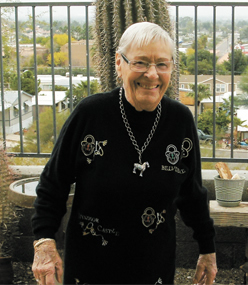 Leny Johanna Williams, daughter of Johanna Nooteboom and Pieter Nooteboom, was born March 4, 1921 in Rotterdam, Holland. She peacefully passed away in her sleep on Sunday, Nov. 29 at the age of 88. Leny is survived by her son, Thomas Key of Paso Robles, Calif., brother, John Nooteboom of Tiburon, Calif., and grandchildren Joshua Key and Meriah Perry. Brother, Peter Nooteboom, preceded her in death. Leny's beloved husband of 30 years, Willis Williams, passed away in 1994 from cancer.

Leny's family immigrated to the U.S. in 1924 and settled in Pasadena, Calif. She was an avid sportswoman and raced sail boats in California before moving to Arizona. Leny and her husband opened an Arabian horse training stable in Scottsdale for prominent Arabian horse breeders. Her clientele included many notables such as Anne McCormick, Robert Aste, Ed Tweed and the Clays. She trained and showed horses for 35 years with her husband, Will, and won many trophies. Leny was an excellent equitation instructor leading several of her students to win state championships. She also was an American Horse Shows accredited judge, and had the opportunity to judge horses in England and Sweden.

Leny and her husband finally ceased training horses and purchased an RV resort in Gila Bend. Both she and her husband, Will, were very active in the town, making many community improvements. Leny's husband was ultimately elected mayor and served for 5 years. After 20 years in Gila Bend, they moved to Cave Creek where Mr. Williams passed away. They were an extremely close and devoted couple and were rarely seen without each other. Leny will be dearly missed by her family and friends.