Sabino rushes for 375 yards! Ousts CSHS Falcons from Playoffs
By Pete Mohr | November 25, 2009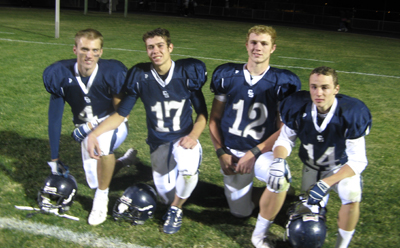 FALCON STADIUM – When I turned in last Friday night, Nov. 20, I was hearing (the late) Jack Buck's classic radio call of Kirk Gibson's walk-off home run in Game One of the 1988 World Series: "I don't bee-leeve what I just saw!" After a restless seven hours, I got up a "believer:" Sabino, 63 - Cactus Shadows, 42, ending the Falcons' season at an almost undreamed of 11-1.

Don't try that praise on the Falcs: this was the win, at home, they needed to advance to the State Semifinals. They didn't get it; and the loss hurts – wrenchingly. What-the-heck happened?! Two stats tell the tale.

Sabercat Head Coach Jay Campos turned loose a trio of speed backs who tore up the Falcon "D," AWOL most of the game, for 375 yards on 44 attempts. Senior Keanu Nelson led the trio, carrying 18 times for 153 yards/five TDs. In the 4th quarter, his punt returns gave the 'Cats critical field position. Committed to Stanford, Nelson looked like he could've run to Palo Alto! His classmate Tyler Cocchi had 17 touches for 116 yards and two scores. Falcon Defensive Coordinator Matt Bradshaw minced no words with this writer: "Our tackling was miserable!"

On the flip side, quarterback Dillon Classen, with the Falcs playing catch-up for most of the 2nd half, had to air it out 59 times, completing 31 for 474 yards, four TDs and three INTS, one a killer at the Falcon 13. In the final 22 seconds of the 1st half, on consecutive plays, Classen hit Brady Dombrowski for six, only to have both plays nullified by penalties. When Bryce Redmond frustratingly shanked a 21-yard field goal attempt, the 'Birds had let the 'Cats go to the break with an underdog-encouraging 14-14 tie.

But at 3:34 of the 3rd, Quad Captain Tommy Murphy's 54-yard catch-and-run with a flanker screen put the 'Birds back up, 21-14. The 'Cats responded with three scores to lead 35-21 at the end of the period. "Underdog" Sabino not only had stayed close, but now, disbelievingly, led by 14!

"F-o-u-r!" went up the Falcons' 4th period start battle cry; and indeed, the 'Birds fought back to pull even, 35-35, with 7:39 to play on Classen's two TD dashes, the second set in motion by Dombrowski's in-the-air recovery of an onside kick. Then the Falcs' "O" developed a fatal case of the "three-and-outs," allowing Nelson and Co. to sprint to an insurmountable three-scores lead at 56-35.

With 1:52 left, Dombrowski hauled in Classsen's 44-yard "for pride' bomb, only to have Cocchi race 40 yards off a double handoff for the game's final score.

A deserved salute to Sabino! When the Falcons recovered to tie at 35-35, I thought the 'Cats would fold like a doggone tent! Obviously, they didn't. So the Falcs can eat as much turkey and dressing as they want at their Thanksgiving tables, with these Sabino Sabercats challenging the Saguaro Sabercats two afternoons later on Paradise Valley's fast-track artificial turf. Do you readers even have to ask for whom "Crow" will be pulling?!

Alright now, Falcons! Heads high, shoulders back! A beyond-successful 11-1 season could hardly have been more exciting for your fans – and this writer. My thanks to "Coach D," his staff, the 'Birds, and their wonderful parents for their support and encouragement.