Schwan recall certified, voters to decide March 9
By Linda Bentley | November 25, 2009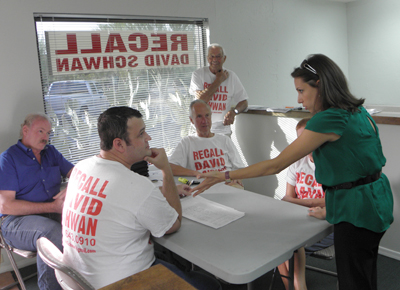 KTVK-3TV Reporter Stacey Delikat is pictured interviewing Recall David Schwan Chair Rod de Szendeffy (from left), Treasurer Ryan Ducharme, volunteers Henk Tinkelenberg, Ray Paul (standing), and Sue Coady for a story about the recall that aired last month.
Photo by Linda Bentley

CAREFREE – On Nov. 17, after Town Clerk Betsy Wise invalidated 10 of the 406 recall petition signatures for the recall of David Schwan, Maricopa County Recorder Helen Purcell certified the remaining 396 signatures less an additional 16, which the county found not to be qualified electors at the time of signing, for a total of 380 valid signatures.

Recall David Schwan Treasurer Ryan Ducharme not only delivered double the 203 signatures required, he did so with an unprecedented invalidation rate of only 6 percent.

According to Ducharme, Wise will officially call for an election before Thanksgiving, after which candidate packets will be available for anyone wishing to run against Schwan in the March 9 election. Wise only asks that prospective candidates call first, citing it takes a little time to put a candidate packet together.

To be on the ballot, candidates need to collect 65 valid signatures by Jan. 8.

Feb. 8 is the last day to register to vote in the March election.

And, since council recently voted to have Maricopa County Elections mail ballots as far in advance of the election as possible, which was 33 days, the law has since changed and ballots may only be mailed out a maximum of 26 days and a minimum of 15 days prior to an election.

Schwan, who had already publicly announced he had no intention of stepping down, turned in his ballot pamphlet statement to Wise on Friday, enumerating why he believes he should not be recalled.

Schwan claims the recall has no substance and states, "The accusations are frivolous and untrue. I never advocated changing misdemeanors into felonies."

No such allegation was ever made, as the town has no authority to change state statute.

However, what Schwan did advocate was changing what are currently civil infractions of the town code into class 1 misdemeanors, a criminal charge punishable by no more than a $2,500 fine and/or six months in jail.

That would include code violations such as failure to obtain a permit prior to holding a yard sale.

Schwan goes on to say, "I did not, and could not, have myself appointed mayor."

Well, he went along with appointing himself mayor by making the vote 4-3 to elect himself, while Peter Koteas, who received 56 percent more votes than Schwan, was clearly favored at the polls.

Schwan also states, "I accept the voters' decisions regarding term of office and the direct election of the mayor."

Prior to each of those elections, Schwan favored four-year staggered council terms over the current two-year terms, and the continued practice of council selecting the mayor, both of which were soundly defeated by the voters, the later by a 73 percent landslide.

Schwan claims he listens to the citizens of Carefree. However, his position on issues contradicts that statement, as voters have indicated.

Schwan sent an e-mail to Sonoran News on Friday stating, "Your editorial of Nov. 18, 2009, contains an error of fact. You wrote, '… however, when he (Bob Coady) asked Mayor David Schwan for trip reimbursement he was denied.' I am also advised that many entries in 'Your View' echo this error of fact."

Schwan stated, "I did approve the trip reimbursement," and went on to say he and Councilman Coady met to discuss his request for reimbursement and said a letter was written to town council immediately after his meeting with Coady regarding his reimbursement request.