A dose of Dos Diablos
By Sara Fassil | November 25, 2009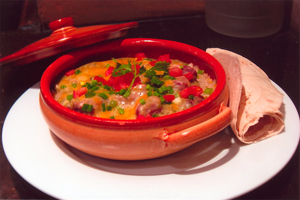 SCOTTSDALE – It has been about three months since Dos Diablos Fine Mexican Restaurant opened and business is going strong.

Owners David Stone, Patrick Melson and Carl Cull came together to create a Mexican restaurant unlike any other. Dos Diablos serves Mexican infusion food and provides locals with a lively hangout spot.

Executive Chef for Dos Diablos, Jean Louis Cowan, has been cooking for 33 years. He uses all fresh ingredients and grade A meat for the dishes prepared at the restaurant.

Stone said a guest favorite is the Chile Verde entrée, a crock filled with green chili stewed pork over rice and topped with melted cheese served with warm tortillas. And popular dessert items are the sopapillas and the pumpkin bread pudding, both served with ice cream.

Brunch is now offered on Sundays from 9:30 a.m. to 1p.m.

Their interior décor is different from other restaurants in Scottsdale. Much of the decorative inspiration came from Quentin Tarantino's movie, Dust Till Dawn, said Stone.

Guests are welcomed into an entrance with a dome roof designed to resemble a compass. This area also turns into a dance floor where guests can dance under lights that move to the beat of the music. The owners said they wanted to create an open, airy space that was visually stimulating for guests.

"This is not just another Mexican restaurant," said Stone.

About 30 servers and five bartenders work at Dos Diablos. There are two full bars, a spacious dining room and an outside patio. Guests can enjoy the warmth from the outdoor fire pits and heaters during the chilly season.

A private party room is available for special occasions or corporate meetings.

There are 14 television sets throughout the restaurant that circulate about 6,000 different music videos. Melson said with Dos Diablos' television sports packages, guests can watch sports games on Saturdays and Sundays during business hours. "We get every game," Melson said.

Thursday nights feature live entertainment from a variety of musical artists from about 5:30 – 10 p.m. The restaurant also offers a happy hour, and a reverse happy hour is soon-to-come.

"It's either the best or we don't do it," said Stone.

Dos Diablos is hosting events at the restaurant next month.

On Dec. 15 there will be an artwalk for guests to enjoy wine and hors d'oeuvres while viewing a variety of artwork. Artwork is for purchase and all proceeds will go to the Foothills Food Bank. This event will be from 5 – 9 p.m.

And on New Years Eve Dos Diablos is having a party with drink and food specials running all day. There will be live entertainment and guests will have the opportunity to receive discounted hotel prices from partnering Carefree hotels.

Dos Diablos is located in The Summit at Scottsdale on Scottsdale Road. For more information visit their website at www.dos-diablos.com.