Trenk resolution cited as serving no real purpose
By Linda Bentley | November 18 2009
'I'm dead in the water anyway. I'm not going to grovel.'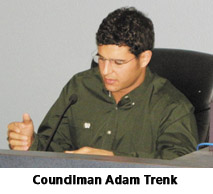 CAVE CREEK – Councilman Adam Trenk made the request to have the second item placed on Monday's agenda; a resolution adopting a "Notice to Prospective Residents and Developers" from the Town of Cave Creek to prospective residents and developers, recommending disclosure of the unique land ordinances and attributes of Cave Creek.
During public comment, Rural/Metro Fire Chief John Kraetz said he favored the notice because it mentions fire protection in Cave Creek is by subscription.
Janet Mohr said the notice reminded her of an item from some years ago where council members scribbled something on a napkin that resulted in a lawsuit costing the town $160,000. She said she realized the notice was drafted with good intentions, but, as a realtor, said items requiring disclosure are already part of real estate sales contracts.
Mohr noted, while some things were being disclosed, there were probably other things being omitted, and said, "I think this is a problem."
Reg Monachino called the measure "interesting" and, while he questioned if the town should be responsible for people who don't do their due diligence, said, "I support the adoption of this measure."
Realtor Arlie Gross said, "I don't know what to tell you. A guideline like this wouldn't be bad. I'm a little baffled as to what we're voting on here."
John Ford said what he liked about the document was it helps people understand what to expect when they come into the town, although he said it would make more work for realtors and the town.
Patricia Motley said she was very fond of the measure, stating it contained was "nothing tricky or underhanded."
T.C. Thorstenson said, "I'm definitely in support of this. This proposal is great – letting people know there are horses."
Rio Verde resident and Arizona Horse Council Vice President Edward O'Brien said he favored the notice and spoke about the benefits of horses in numerous capacities, from a revenue producing industry to their use in various types of rehabilitation programs.
Kim Brennan, also a realtor, said she respects Mohr but where they disagree is "people don't know" many of the things being disclosed and stated the notice is not meant to be an addendum to real estate contracts.
However, Brennan said she would also like to see it include a map, noting people, including many real estate agents, don't know where Cave Creek is.
Don Sorchych stated, "This is a political thing. It's something that isn't needed."
As he pointed to the section about water being a "precious resource" in Cave Creek and the statement, "Consequently water rates may be higher in Cave Creek than in other communities …" Sorchych said, "Water rates are higher because the town needed money. The town would be promulgating lies …"
Mohr returned to the podium and said, "If you're going to make this disclosure, let them hand it out at Harold's."
Trenk moved to approve the resolution only to be faced by a silent council until Mayor Vincent Francia decided to second the motion for the purpose of discussion.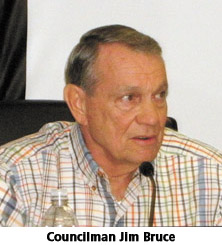 Trenk said, "When I ran for council, I wanted to write this. I did a lot of research," and stated a lot of the discussion of this being political was because he wasn't elected to council the same way as everyone else.
Trenk said he believed the document actually reduces the town's liability, adding, "Granted, not everything on this affects everyone in town."
Councilman Jim Bruce said, "I think what this document is purporting to do is promote how great our town is," in which case he believed the town should hire a PR firm.
He said, "The real problem I have … Why would the town want to place itself between a buyer and seller? We're getting into a due diligence problem. I'm not going to support this."
Councilman Ralph Mozilo stated this was not an issue of politics with him or anyone else on council, adding, "The first issue that came to my mind was liability. I don't want the town to do the job of competent real estate agents."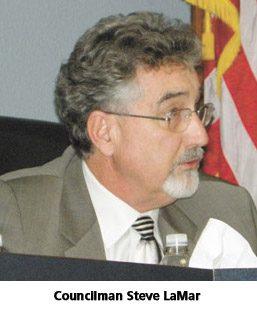 Councilman Steve LaMar stated he's spent 34 years in the legal profession and said, "My real concern is it serves no real purpose. I don't see it as being a positive at all. It's just not a good idea and there's no reason for it."
Vice Mayor Ernie Bunch said his biggest problem with the concept is the town would be getting in the middle of real estate business.
After listening to all their comments, Trenk told council, "You almost have me convinced," and said, "I'm dead in the water anyway. I'm not going to grovel."
Responding to a comment from the public, Francia said, yes, he could block things from being placed on the agenda but prefers to encourage members of council to bring items forward.
By a vote of 5-1, council voted against the resolution, with Trenk voting yes and Councilman Dick Esser absent.
After the meeting, Trenk said he didn't take council's vote personally.