William 'Cold Cash' Jefferson sentenced to 13 years on Friday the 13th
By Linda Bentley | November 18 2009
'There must be some sort of greed virus that attacks those in power'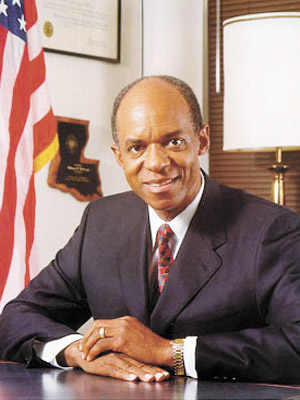 ALEXANDRIA, Va. – On Nov. 13 U.S. District Judge T.S. Ellis III sentenced former U.S. Rep. William Jefferson to 13 years in federal prison, as he commented about corruption being "a cancer on the body politic."
In August, a jury convicted the 62-year-old Louisiana Democrat, who was caught with $90,000 cash of a $100,000 bribe hidden in Pillsbury Pie Crust and Boca Burger boxes in his freezer, on 11 counts of conspiracy to solicit bribes by a public official, depriving citizens of honest services by wire fraud, violation of the Foreign Corrupt Practices Act, fraudulent schemes, money laundering and racketeering.
Ellis also signed a preliminary order of forfeiture in the amount of $478,153, which the jury determined constituted proceeds derived from the offenses of Jefferson's conviction.
Last month, the Louisiana Supreme Court suspended Jefferson's license to practice law until further order by the court.
Jefferson is appealing his conviction.
In his sentencing memorandum, defense attorneys argued the sentencing guidelines calculated by the U.S. Probation Office would be "unprecedented," and pointed to the sentences of Vernon Jackson and Bret Pfeffer as justification for a sentence of less than 100 months.
However, prosecution Attorney Mark Lytle responded by stating Jefferson's corrupt conduct was "equally unprecedented" and his activity "represented the most extensive and pervasive pattern of corruption in the history of Congress."
According to Lytle, both Jackson and Pfeffer "immediately accepted responsibility and pleaded guilty early on in the investigation."
"Even more importantly," said Lytle, "Jackson and Pfeffer were involved in only a fraction of the criminal conduct for which the defendant now stands convicted."
Lytle was seeking a sentence of 27 years for Jefferson, who accepted bribes in exchange for his political influence to facilitate business deals in Africa, and pointed out the sentences for Jackson and Pfeffer, neither of whom were high-ranking public officials, were in accordance with the 2005 Guidelines Manual.
He also noted Jefferson has never accepted responsibility, was convicted of no fewer than 11 bribery schemes involving more than a half billion dollars, and was one of the most powerful public officials in our country."
Lytle stated, "The defendant's sentencing memorandum paints a portrait of a man with an intellect, talent, and ability only few people are blessed enough to possess. From humble beginnings, the defendant describes how he entered 'the nation's finest educational institutions and its highest corridors of power.' Such achievements would be commendable had the defendant not later sought to sell the high public office he had attained in exchange for a handsome payday for himself and his family. Somewhere along the way, the defendant betrayed the public trust in pursuit of his own greed."
In conclusion, Lytle asked the court to sentence Jefferson within the range calculated by the probation office, and by doing so it would "assure the public that all persons, even those from the highest corridors of power, stand equal before the law."
While sentencing Jefferson to 13 years, the longest prison sentence ever imposed on a congressman convicted of bribery, Ellis noted many other members of Congress have been similarly convicted and said, "There must be some sort of greed virus that attacks those in power."
Jefferson was allowed to remain free until a hearing this week where the defense will argue Jefferson should remain free during the pendency of his appeal, whereas the prosecution has requested that Jefferson begin serving his term immediately.