13th Annual 'Hidden In The Hills' Artist Studio Tour Nov. 20-22 and Nov. 27-29
November 18 2009
CAVE CREEK – Arizona's largest artist studio tour is once again set for the last two weekends of November. Fine artists throughout Cave Creek, Carefree, and North Scottsdale will open their studios to the public for the 13th Annual "Hidden in the Hills" Artist Studio Tour Friday, Saturday, and Sunday, Nov. 20-22 and again Nov. 27-29.

Sponsored by the non-profit Sonoran Arts League, the popular event features 152 artists at 46 studio locations. The free, self-guided studio tour takes place from 10 a.m. to 5 p.m. and offers art enthusiasts a unique opportunity to observe artists at work in their private studios.

Many new artists this year
Artist Corinne McAuley sees this year's "Hidden in the Hills" art studio tour as a starting point to launch her new beaded-tapestry career. The talented artist will display her unique pieces – some containing nearly 50,000 beads – and demonstrate the beaded-tapestry process at Studio #17 during the tour.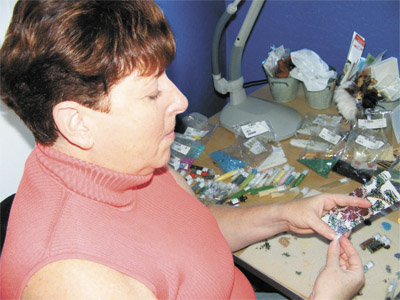 "When people hear the word bead, the first association is with jewelry. Beads have been used throughout history in many ways, from currency thousands of years ago to modern uses in embroidery mixed media art, quilting, handbags, and other forms of art," McAuley said.

She said she "has not even touched the tip of what is possible with beaded tapestries." McAuley is so passionate about her art, she left a corporate position to devote more time to her work.

"I create designs based on what strikes me at the moment," she said. "I use photographs to create my patterns. I scan the photos into my computer software which is a starting point for creating the piece. Software is a wonderful tool, but it is not perfect. It can take several hours to get the colors and the design correct."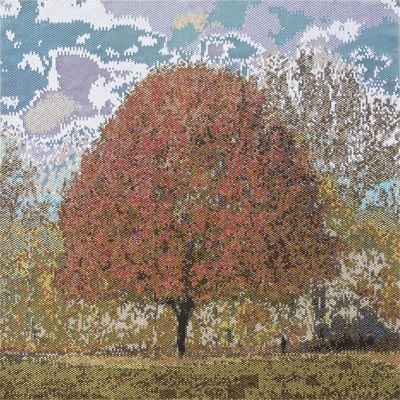 After the computer program completes the design, she sews each bead together with a needle and thread to create a tapestry.

"My art is a labor of love. Most artists feel this way about their art. To choose to spend four to eight weeks on a piece of art, one would have to love what they create," she said. "I am drawn by the surprise of the expectation of the piece. When you create art in this form as row by row is completed it can be compared to a picture slowly developing. Only when the piece is completed do I know if I have succeeded with my vision."

Photos: Corinne McAuley creates beautiful beaded tapestries, some containing nearly 50,000 glass beads. This beautiful beaded tapestry, "Fall Fire," contains 42,716 glass beads.