From diversity to damnation
By Linda Bentley | November 18 2009
'As horrific as this tragedy was, if diversity becomes a casualty, I think that's worse'

WASHINGTON – Political correctness has allowed Department of Homeland Security (DHS) Secretary Janet Napolitano to rename the Global War on Terror "Overseas Contingency Operations," and terrorist attacks are now "man-caused disasters."
The DHS is instead preoccupied with the potential threat of conservative, patriotic Americans, who may be Christians, veterans or pro life, that believe in the Bill of Rights and the Constitution, whom Napolitano has painted as right-wing terrorists based on anecdotal reports provided by the Southern Poverty Law Center.
Even after Major Malik Nadal Hasan, who, after reportedly yelling "Allahu Akbar," opened fire in a room of 300 servicemen and women at Ft. Hood, killing 13 and injuring 29, Napolitano was primarily concerned about protecting Muslims in the military against anti-Muslim backlash that might occur.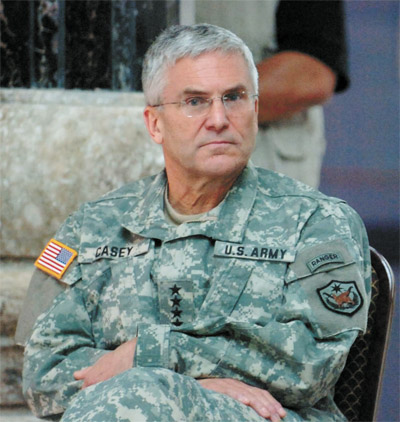 Meanwhile, Gen. George Casey, when asked if this wasn't a premeditated act of terrorism, told ABC's George Stephanopoulos, "I think we need to be careful here on speculations based on anecdotes like that."
On "Meet the Press," Casey said, "As horrific as this tragedy was, if our diversity becomes a casualty, I think that's worse."
In interview after interview, Casey referred to the Ft. Hood shooting only as a "tragedy." When Stephanopoulos asked how the military plans to deal with this potential problem in its ranks, he said, "Speculation could potentially heighten backlash against some of our Muslim soldiers and what happened at Ft. Hood was a tragedy, but I believe it would be an even greater tragedy if our diversity becomes a casualty here. It's not just about Muslims, we have a very diverse army, we have a very diverse society and that gives us all strength. But, again we need to be very careful about that."
Apparently there were plenty of indications Hasan identified more with Islamic jihadists than with the U.S. Army, from the "SoA" (Soldier of Allah) designation on his business cards to his presentation in June 2007 to a roomful of physicians at Walter Reed titled, "The Koranic World View as it Relates to Muslims in the Military."
Hasan's PowerPoint presen-tation incorporated numerous verses from the Koran and comments about Osama bin Laden, the Taliban and suicide bombers, including the statement, "We love death more than you love life!"
As disturbing as Hasan's presentation was, no one said anything out of fear of being called an Islamophobe, criticized or reprimanded for lack of tolerance of diversity.
Back in May 1994, Lt. Cmdr. Guy Cunningham, now retired, personally conducted a survey of 300 male, combat trained U.S. Marines who were selected from various units assigned to the U.S. Marine Corps Air/Ground Combat Training Center, located at 29 Palms, Calif., to gather the data which formed the basis of his master's thesis, titled "Peacekeeping and U.N. Operational Control: A Study of their Effect on Unit Cohesion."
Cunningham stated unit cohesion, the core theme of his thesis, is historically recognized as "the single most critical element in an effective combat fighting force."
He states in his introduction, "Factors which erode or subvert unit cohesion must be recognized, understood and avoided. This thesis addresses two factors which are hypothesized to impede achieving cohesion among U.S. combat soldiers. The two factors are United Nations operational control and operations other than war."
The empirical study investigates three hypotheses. The first is combat soldiers will express reservations about participation in non-traditional missions. The second is, as missions grow more non-traditional and are placed under United Nations operational control, there will be an increase in the percentage of negative responses. The third is, in all cases there will be a significant diversity of opinion among the soldiers.
A copy of Cunningham's survey questions were subsequently leaked to the media a month later, which turned Cunningham's world upside down as he began receiving what he called "articulated death threats against me and my family."
Richard H. Rongstad, the reviewer and indexer of Cunningham's thesis, which was published in 1995, commented, "Guy Cunningham, and his thesis, have been subjected to levels of both public and official scrutiny that is rare for academic research undertaken at military and naval graduate schools. I've heard and read criticism of Guy Cunningham, the NPS and the U.S. government that … borders on savagery and lunacy and is the height of paranoia.
I've heard suggestions that Guy Cunningham is 'an agent provocateur, a plant and America's point man for submission to the New World Order.' Not that some paranoia with respect to the direction of the U.S. federal government is undeserved. On the contrary, the federal government and certain individuals and bureaucracies within it are promoting a relentless drift toward tyranny and surrender to schemes of global government …"
Rongstad goes on to say Cunningham's thesis gives a lucid illustration of how America's military establishment got where it is, caught in foreign entanglements despite the ageless warnings of George Washington, tangled up in wars, peacekeeping and operations other than war, on a global scale, and even considered by some as a logical tool of repression of the American people."
Rongstad dedicated his "Reader's Companion" pages to Cunningham, whom he said "upheld his oath of office, with great distinction and rare academic and personal courage, to produce his master's degree thesis contained in these pages."
Cunningham, who now lives in Georgia, has since become involved with Oath Keepers, an organization founded by Nevada Attorney Steward Rhodes, and has been a guest speaker at a number of their rallies.
Rhodes calls Cunningham "a true patriot and man who risked his career to explore the vital questions of how U.S. military personnel are being conditioned to undertake missions that are in contradiction to our Constitution, such as conditioning troops to serve under U.N. command, and how troops are not sufficiently instructed about the Constitution, Bill of Rights and Declaration of Independence. His study and his observations on the results are very relevant to our mission as Oath Keepers."
While diversity cloaked in political correctness allowed a terrorist attack to occur inside a military base, it does nothing to promote cohesion, which is defined as "the state or condition of joining or working together to form a united whole … unity."
Casey, who has failed to recognize, understand and avoid Islamic jihadists in the military, even though Hasan provided ample warning of his threat, is more concerned about diversity becoming a casualty of Hasan's terrorist attack.