Did money have an effect on local elections?
By Linda Bentley | November 11 2009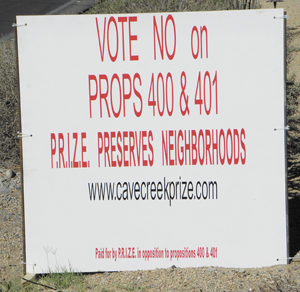 CAVE CREEK – Walmart contributed more than $185,000 to the Friends of Cave Creek Political Action Committee (PAC) in support of Propositions 400 and 401, the referendums on the general plan amendment and rezoning of 20 acres just south of the intersection of Carefree Highway and Cave Creek Road to allow a Walmart store.

That comes to about $95 per vote for the 1,954 ballots cast out of a possible 3,411 registered voters.

PRIZE (Preserve Residential Integrity, Zoning and Environment), on the other hand, which opposed the two propositions, raised a little over $12,000, primarily from a handful of local residents, although there were also contributions from people in Phoenix (south of Bethany Home Road), Los Gatos, Calif. and Mendota Heights, Minn.

That's just a little more than $6 per vote.

Creekers have indicated quite adamantly they do not want a property tax, and have repeatedly elected representatives who have pledged not to impose one.

For a long time, Creekers have also longed for a store in their own town where they could reap the tax revenue from purchasing staples and groceries rather than support the towns of Carefree, Scottsdale and Phoenix, where they currently must shop for their daily needs.
There was a 57 percent voter turnout in Cave Creek for the referendums on Nov. 3, in which 75 percent supported council's vote to amend the general plan and rezone to allow Walmart to locate in town just south of Carefree Highway.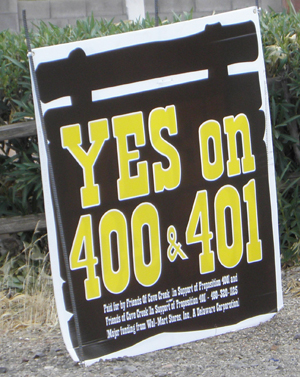 Although Cave Creek may never surpass the 80 percent voter turnout to preserve Spur Cross Ranch, it was the largest number of votes ever cast in a Cave Creek election.
If Walmart's monetary contributions to the campaign made a difference, it may have only been overkill.

The Cave Creek Unified School District's K-3 override, which was not supported by 53 percent of the voters, had a 34 percent (12,992) turnout of 38,092 registered voters.
There were two PACs supporting the K-3 override and none in opposition.

One of them, Citizens for Cave Creek, Supporting CCUSD K-3 Override and Propositions 400 and 401, chaired by former Cave Creek Councilman Thomas McGuire with Sharon McCarthy as treasurer, indicated on its pre-election campaign finance report no contributions were made and no was money spent.

McGuire writes textbooks for AMSCO School Publications. McCarthy is a self-employed plumber who lives just west of the Walmart site and is part of a group of property owners who have sought commercial rezoning for their residential property.

The other PAC, LearnYes.org Supporting CCUSD K-3 Override, chaired by Attorney Stephen Hart, who has just recently paid the delinquent second half of his 2008 property taxes, including $72.89 in interest, was able to amass almost $11,000 in contributions.

There were no real surprises on the campaign finance report as far as contributions were concerned. Hart and his wife Lori, who is a teacher at CCUSD, donated $800.

Additionally, Hart made in-kind contributions totaling $628 toward fundraising efforts.
Realtor Ron Weiss donated $200 and made in-kind contributions totaling $856.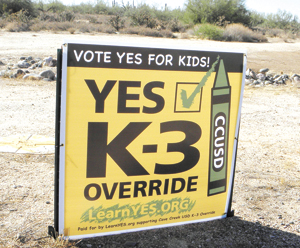 Another $800 was donated by CCUSD governing board member David Schaefer and his wife.

The Horseshoe Trails and Desert Sun PTOs donated $545 and $446, respectively, along with contributions from Superintendent Debbi Burdick, Associate Superintendent Kent Frison and a smattering of teachers.

Greg Smith, who has been one of the biggest cheerleaders for the K-3 override, donated $40.

Virgil Cain, who lost his bid for a school board seat in the last election, was another vocal proponent of the override. He wrote a nasty letter to the editor because the editor did not agree with Cain's position on the override.

Cain donated zero to the campaign and instead profited by selling it $200 worth of sign posts.

Although CCUSD has touted all eight of its schools as being labeled excelling as a selling point for the override, it has not publicized the fact that the district as a whole failed to meet average yearly progress (AYP) to be considered an excelling district.

We wondered how that can be if all the schools are labeled excelling.

According to the Arizona Department of Education, if there are 10 or fewer students in a classification that did not meet AYP in a particular school, that group is not reported.

However, when the aggregate total of the group that fails to meet AYP from all the schools in the district combined exceeds 10, then the district is considered to have failed to meet AYP and does not meet the requirements to be designated excelling.