Cultural contracts for an uncivil council?
By Linda Bentley | November 11 2009

'If we consider the message instead of the messenger, all this will go away … I don't need to sign anything'

CAREFREE – Gary Hayward headed up Call to the Public by stating he didn't plan on speaking until he read Sonoran News at 4 p.m.

He said the article accused him of harassing recall petition signers and complained that he was never contacted to get his side of the story.
Hayward then proceeded to tell council, "On two occasions I told two signers they needed to hear the other side of the story," and claimed he was simply exercising his right to free speech.
Councilman Bob Coady stated, "This is not town business," and said he had just spoken to the town attorney about this Call to the Public issue only minutes before the meeting, adding, "Unless the town attorney was incorrect."
Mayor David Schwan said he was not going to inhibit free speech.
Greg Gardner commented on the Channel 3 TV interview with Rod de Szendeffy, whom he asserted "told outright lies," and then explained how to calculate a per-capita long-term debt ratio.
Schwan announced the town, since it had won in court, was pursuing attorney's fees against GP Properties, Michael Peloquin's company. However, he said GP Properties has since filed an appeal, which the town is responding to, and stated, "So, it's not over yet."
Town Accountant Jim Keen presented the 2008-2009 fiscal year audit for discussion and approval, explaining the adjusting entries and audit to financial statement comparison sheet, Annual Expenditure Limitation Report and financial statements.
Jim Peirce rose from the back of the room and called for a "point of order," to question if the item was properly noticed.
Schwan told Peirce he was out of order and had no authority to call for a point of order.
Keen said the audit report is posted on the town's website if anyone wants to look at it.
During public comment, Peirce pointed out the meeting was noticed for discussion and action of the 2007/2008 fiscal year audit but council was discussing the 2008/2009 audit.
Councilman Doug Stavoe asked if the town was at bare bones spending right now.
Keen responded, "Yes, pretty much."
Stavoe stated, "So, we're still outspending revenues by $100,000."
Councilman Peter Koteas expressed concern about revenue being down.
Schwan said the town was a victim of the state and the state was a victim of businesses and when they pay their taxes.
Koteas reiterated his concern that the town was three months into the year and "we don't know where we're at."
Schwan responded, "Your observations are correct," and said there would be an agenda item in December to review the town's financial situation.
He also said the 1 percent increase in sales tax was supposed to cover the Rural/Metro contract, but because revenue is down the balance is being paid out of the general fund.
Council voted unanimously to approve the 2008/2009 fiscal year audit.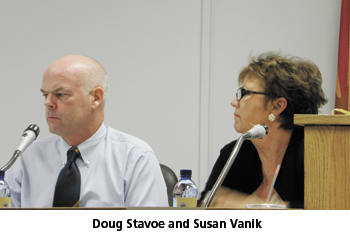 Councilwoman Susan Vanik introduced the possibility of developing a "Cultural Contract" for council members to sign. She said, "My concern is our reputation is inseparable from the town," and provided, for an example, the cultural contract developed by Dial Corp., which she said employees are required to sign upon employment.
The cultural contract presented was essentially a code of behavior with a commitment to guide behavior in dealing with others to ensure "civility and respect."
Koteas said, "I believe if we consider the message instead of the messenger, all this will go away. I believe after the dressing down we've gotten … I don't need to sign anything."
Coady stated, "No one should take what is said by council personally," and said number three on Vanik's suggested cultural contract, stating, "We regularly communicate with each other on important issues and developments," would be a violation of the open meeting law.
Stavoe asked Town Administrator Gary Neiss if the town had a cultural contract.
Neiss said it did not but indicated employees belong to a variety of professional associations that address those things.
Vanik said she wanted it to apply to elected officials.
Koteas said, "We were elected by the citizens and are accountable to them, not to each other."
Stavoe asked Town Attorney Tom Chenal if it was even legal to regulate council's behavior.
Chenal asked, "What are the ramifications if you vote for it and no one signs it?" Because council is elected, Chenal indicated there really weren't any.
Stavoe moved to develop a code of ethics and conduct for the town of Carefree staff and then evaluate it for council.
Coady said, "I think this is infantile. I'll put my trust in the citizens who elected me."
Vanik stated, "That is not my intent," explaining she brought the item forward for elected officials not town staff.
Gemmill asked what staff had done to impose something like this on them.
Stavoe responded, "Nothing. I'm just saying this is a place to start."
"This has nothing to do with staff," said Vanik.
During public comment, Lyn Hitchon said, for clarification, she was at the meeting where Coady told Schwan he "would not be telling the truth."
Peirce said, "It seems to me Mr. Stavoe's motion is not what Councilwoman Vanik had in mind … imposing this on town staff," and expressed concerns about it violating the open meeting law.
He stated, "Councilman Stavoe's motion is irrelevant to what Councilwoman Vanik has brought to the table."
Stavoe said, "The issue on the agenda is about council. The motion I made is not. I'd like to withdraw my motion. I have no issue with town staff ..."
Schwan asked how council wished to proceed on the item.
Vanik said she would like to see something brought forward.
Neiss offered to research what other towns have in place and who it applies to, and bring something back to council, which then voted unanimously to continue the item to a date uncertain.