Bicycle Festival for open space, special events for any reason at all
By Linda Bentley | November 4, 2009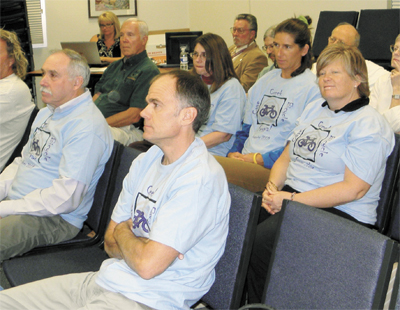 Assistant Utilities Manager Mike Rigney (l) made a presentation to council about the upcoming Bicycle Festival to raise money for the town's purchase of open space and introduced the event volunteers, Dave Thompson, Theresa Rigney (from left), Korina Riggin, Ann Patsy and Melanie Williams (not present). Photo by Linda Bentley


State shared revenue distribution estimated at $151K less for 2011
CAVE CREEK – Assistant Utilities Manager Mike Rigney did a presentation of the inaugural Bicycle Festival, detailing the various events and activities planned throughout the weekend for the next open space fundraiser.

He said there were currently 130 registrants, including some from as far away as Kentucky and Arkansas.

Since there will be a mountain bike race and ride through Spur Cross Conservation Area and Cave Creek Regional Park on Saturday, Nov. 14 beginning at 10 a.m., Special Events Coordinator Korina Riggin wanted to alert those who ride horses to refrain from using those trails during that time.

After minimal changes to fine tune the special event ordinance for its second reading, council passed it by a vote of 6-1 with Vice Mayor Ernie Bunch dissenting.

Bunch's vote was based on his concern that commercial property owners who wanted to use their vacant land for a special event would be at the whim of elected officials, not necessarily this council but future councils.

Town Manager Usama Abujbarah stated council had criteria it must follow to approve or deny a permit and it couldn't be just an arbitrary decision.

Councilman Ralph Mozilo expressed concerns about events requiring a permit needing to be approved by council rather than by town staff or the town manager, since council only meets twice a month and suggested modifying the ordinance to that effect.

However, Mayor Vincent Francia said he would object to such a change and comments were made if such a big event needed to come before council for approval, two weeks should provide ample time for an event to come before council and the public.

Town Attorney Marlene Pontrelli suggested the town capitalize the words "Uses" and "Activities" throughout the ordinance, as they were defined terms in the ordinance.

Councilman Jim Bruce, who moved to approve the second reading, commented, "It looks like we're on our way to what council wants it to do."

Pleased with the outcome, Councilman Steve LaMar said, "It's been a long time since council has worked together on behalf of the town."

Councilman Adam Trenk called the revised ordinance a "drastic improvement."

Council voted unanimously to pass the second reading of the ordinance that removed Special Events from the zoning ordinance.

Council voted unanimously in favor of Town Engineer Wayne Anderson's request for a continuance until Dec. 7 for the Morningstar Road paving project, stating there were matching federal funds involved that required additional attention.

Utilities Manager Jessica Marlow was unanimously granted her request to transfer the remaining contract for construction inspecting and testing services at the wastewater treatment plant project from Construction Inspecting & Testing (CIT) to Ricker, Atkinson, McBee & Mormon (RAMM), the next responsible lowest bidder.

Marlow stated CIT had gone out of business and RAMM agreed to perform the services for the remaining amount of CIT's contract.

Council voted unanimously to recommend approval for a permanent extension of premises permit for the Hideaway Grill. Town Clerk Carrie Dyrek noted the applicant had also requested a zoning clearance from the town for a fence to contain the area.

Vincent Francia thanked council for its work on the special events ordinance and announced grim news on the economic "recovery," stating the Urban Revenue Sharing (URB), which is the state income tax shared revenue distribution to cities and towns, is estimated to be $154,644,630 less for 2011 and Cave creek's share would be down $151,367.

Francia stated the estimated shortfalls for Phoenix and Mesa were $47 million and $14 million, respectively, for 2011 and said these numbers indicate we still have a long way to go before we see an economic recovery.

Dyrek stated she had posted notices for council and committees to be able to meet until midnight on Tuesday at town hall and the restaurant across the street in the event a quorum were present waiting for election results to come in.