'Cave Creek Wild West Days' set for Nov. 5 - 8
October 28, 2009

Event to feature a Poker Ride, Bull Riding; Rat Rod Car Show, Boot Race, Kid's Zone, Craig Morgan Concert, Beer Festival and Art Show, Music, Food, and More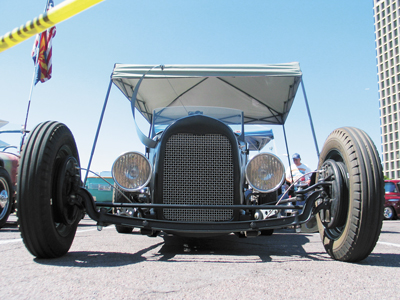 CAVE CREEK – "Cave Creek Wild West Days™" will take place Thursday through Sunday, Nov. 5 - 8. Coordinated by the non-profit Cave Creek Merchants Chamber of Commerce, the seventh annual event will once again transport the community back to the late 1800s and provide several dozen mini-events at various locations throughout the festive weekend.
The event kicks off on Thursday, Nov. 5 with its "Cowboy, Spikes & Spurs" golf tournament at Rancho Manana Golf Resort. The Cave Creek Little Rascals will perform their "Circle the Wagons" Review at 4:30 p.m. at the Cave Creek Coffee Company on both Thursday and Friday.

The event continues Friday through Sunday with a number of mini-events and activities, including on Friday: a Classic Car Show at Big Earl's Greasy Eats and Bull Riding at The Buffalo Chip.

On Saturday: a "Lucky 13 Horseback Poker Ride through Town begins at 7:30 a.m. in front of T.C. Thorstensen's arena; an Inaugural 100-Yard Dash Boot Race at 1 p.m. in front of Harold's Corral; a Best-Dressed Horse Contest at 2 p.m. in front of Big Bronco; an all-day Arts and Crafts Show and Beer Festival at Silver Spur Saloon at Frontier Town; Hot Sauce Tasting, and more.

Highlights for Sunday include: a Rat Rod Car show and Cruise through Town and an Anger Management Automotive Slam, where participants can get rid of any stress by taking a sledge hammer to one of the old, gnarly cars for $1 per hit; a Pin Up Girl and Tattoo contest at 4 p.m. at The Hideaway, 6746 E Cave Creek Rd.; and live music and many other activities throughout town.

Weekend nightlife entertainment also includes special Saturday, Nov. 7th concerts featuring country music star Craig Morgan at Harold's Cave Creek Corral and Ari Hest at Tonto Bar & Grill, as well as special weekend concerts at Cartwright's Sonoran Ranch House & Lounge, Cave Creek Coffee Company, The Horny Toad, other venues.

In addition, Cave Creek Wild West Days featured artist Lance Headlee will sign limited edition prints of his painting, "Let's Ride," throughout the weekend at Harold's Cave Creek Corral. An acclaimed painter from Anthem, Headlee's bold, sophisticated and captivating contemporary paintings have attracted collectors worldwide. Unsigned prints cost $20; signed prints cost $30.

Admission to the 7th Annual Cave Creek Wild West Days™ is FREE. For the best parking option, look for the Boy Scout Troup #603 fund-raiser parking lot off of Schoolhouse Road: The cost is $5 per vehicle.

For more information, call 480-437-1110, or visit www.cavecreekchamber.org.