Teen awarded Scottsdale Healthcare Auxiliary scholarship

October 28, 2009
Cactus Shadows High School senior receives funds for healthcare education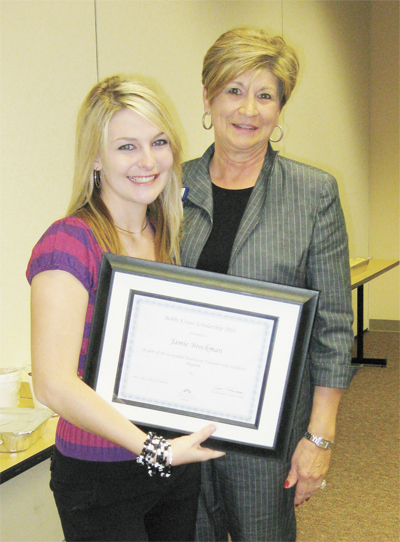 Teen volunteer Jamie Brockman is awarded the Bobbi Kraus Scholarship by Scottsdale Healthcare Auxiliary President Ann Holmstrom.
Courtesy Photo
SCOTTSDALE – Scottsdale Healthcare teen volunteer Jamie Brockman has wanted to be a doctor since she was a little girl – and even more so after watching her father successfully battle leukemia a couple years ago.

As this year's recipient of the Scottsdale Healthcare Auxiliary's annual Bobbi Kraus Scholarship, her professional dream could be closer to becoming reality.

The scholarship provides the Cactus Shadows High School senior with $1,500 for education in a healthcare profession. Named after a former volunteer, the scholarship is awarded annually to a participant in the Auxiliary's summer teen program who provided quality volunteer service.

"The hospitality and sincerity of the nurses and doctors who worked with my father greatly inspired me and make me want to be a doctor even more," said Brockman, who plans to attend an in-state college before going to medical school and ultimately becoming an oncologist.

A first-year volunteer, Brockman completed 74 volunteer service hours and attended all six lectures presented by Scottsdale Healthcare physicians as part of the summer teen volunteer program. The lectures addressed topics such as orthopedics, research, emergency service and family medicine.

An energetic achiever, Brockman continues to volunteer in a surgery waiting area at Scottsdale Healthcare Shea Medical Center, where she helps ensure family members are comfortable and kept informed of their loved one's status – all while maintaining a 4.34 GPA and working as a medical office receptionist.

"Our teen program has attracted a very accomplished group of teens in our county. We have extraordinary students providing exemplary service in our hospitals," said Scottsdale Healthcare Volunteer Services Director Felicia Saldana, noting that it was difficult to select just one as the scholarship recipient.