Silver Spur Saloon & Eatery remains in the saddle
By Sara Fassil | October 21, 2009
CAVE CREEK – Despite the country's recent recession, Cave Creek's Silver Spur Saloon & Eatery upheld success during its first year of operation.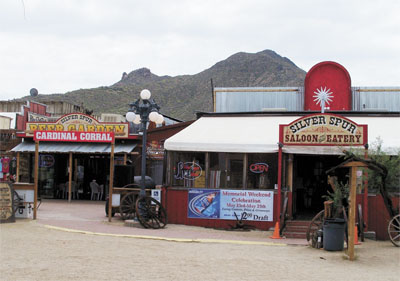 Silver Spur is located in the Frontier Town shopping center, one of Cave Creek's oldest family-owned businesses. Beverly and Julian Peagler have been the owners of Frontier Town for 39 years. Their son, Marc Peagler, owns and runs the Silver Spur restaurant.
Frontier Town is an 1880s themed shopping center and Silver Spur is in the center of it all. They are known for their steaks, ribs, briskets, fried chicken and strawberry shortcake. Their food is "good ol' home food," said Marc.

Silver Spur was formerly known as the Satisfied Frog Restaurant, owned by Ed and Maria Chilleen. The Peagler's gained ownership of it in 2008, but they did not have any experience in running a restaurant.

Marc said, "It was like having your hands behind your back, hand cuffed, blind folded, then diving into water expected to swim."

Though they didn't have previous experience in this kind of business, Marc Peagler said keeping a restaurant in Frontier Town was important for the shopping center. His family members all have a part in the restaurant. His father helps run the business from home, his mother helps with decorating and Marc works at the restaurant.

Visitors can find Marc at the Silver Spur every day except Sundays. He said he spends about 50 hours a week at the restaurant, which has 44 employees and is looking to hire more people.

Marc Peagler said they could always use more business at the Silver Spur, but overall it has been good. Marketing and running advertisements has helped his business immensely during the recession. More locals have been coming in, he said.

They have also been remodeling the Silver Spur's 1971 building and keeping up with its maintenance. So far, the Peagler's have put about $400,000 into remodeling.

Silver Spur is located at the center of the town on Cave Creek Road, so it is well known by locals and attracts tourists, Peagler said. The restaurant is family oriented and a place to have fun.

"We are a destination spot," stated Peagler.

Silver Spur sponsors many community events. They are sponsoring the Cave Creek Bicycle Festival Nov. 13 – 15, said Mike Rigney, assistant utility manager for Cave Creek and coordinator of the Bicycle Festival. This festival will be held at Frontier Town and will include a mountain bike race, vendor fairs, outdoor movies, concerts and more.

Within the next few years, the Peagler's expect to fully recover from the current economic downturn. Marc said his mother has hopes the business will stay in the family and be passed down to her grandson, but there are no definite plans for that.

Silver Spur Saloon & Eatery is located in Frontier Town, 6245 E. Cave Creek Rd. For more information visit www.silverspur saloon.com. Call 480-488-3317 for reservations for small groups, weddings and large parties.
Catie Curtis performs a live concert at Cave Creek Coffee Company, Friday, Oct. 23 at 7 p.m.
October 21, 2009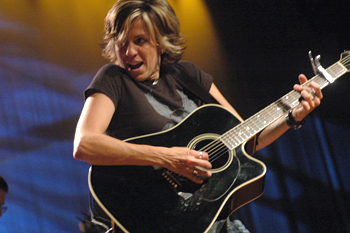 Boston Folk, Pop Musical Artist Catie Curtis performs a live concert at Cave Creek Coffee Company on Friday, Oct. 23. Curtis's enduring lyrics and engaging personality has drawn widespread recognition. With nine albums out in stores and accolades including a 2006 International Songwriting Competition Grand Prize and songs featured on hit television shows including Desperate Housewives and Alias, Curtis has achieved much musical success. She performs compelling, interesting and engaging music out of domestic happiness. Amazon.com says, "Curtis's songs are beautifully and deceptively well crafted, her production tastefully understated, and her singing so heartbreakingly pure, pained and devoid of artifice as to suggest she knows not only your secrets but your soul."

With a distinct selection of in-house varietal coffee roasts and blends, Cave Creek Coffee Company also offers a wide selection of wine, beer, infused martini selections, and delicious food and desserts.

$18.00 in advance online or $20.00 at the door. Doors open at 6:30 p.m. 6033 E. Cave Creek Road, Cave Creek.

For more information please call 480.488.0603 or visit www.cavecreekcoffee.com.