Wise's bond reduced, trial continued to January
By Linda Bentley | October 14, 2009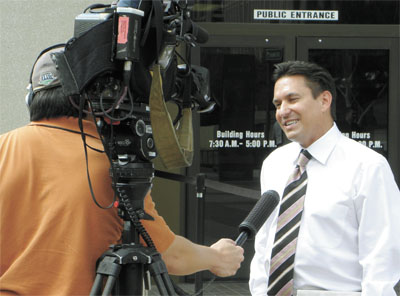 Pictured speaking to Channel 12 News in July after Maricopa County Superior Court Commissioner Barbara Spencer denied Dan Wise's request to reduce his bond, Sean Gillespie was surprised last Friday when, even though "nothing has changed" since July, Spencer ordered the bond reduced from $500,000 cash to $360,000 secured.
Photo by Linda Bentley

'I know the moral fiber of the man - I have seen him looking at the victims and smirking at them'
PHOENIX – Danny Wise, the former Scottsdale CPA and Desert Mountain resident accused of running a $70 million Ponzi scheme, appeared in Maricopa County Superior Court last Friday on another matter, in which he was successful at getting his bond reduced from $500,000 cash only to a $360,000 secured bond.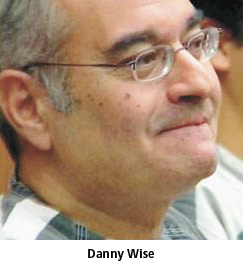 What this means is, Wise would only need to post 10 percent of the $360,000 with a bail bondsman, providing there is someone willing to sign over their house, for example, as collateral for the remainder of the $360,000 to secure Wise's appearance.

Commissioner Barbara Spencer, after denying his request in July, granted the reduction.
Wise has been incarcerated at the Lower Buckeye Jail since his arrest in May on 15 counts of fraudulent schemes and theft, 12 class 2 felonies and three class 3 felonies.

While a CPA, Wise is accused of converting money received from clients to pay their federal and state taxes to his own use. When Wise was confronted by his clients about their unpaid taxes, Wise allegedly produced forged cancelled checks to make it appear as though the IRS had misapplied their money.

Wise's Attorney Humberto Rosales stated he wasn't present in July on behalf of the defendant and Attorney Joseph Allen, who was present at the hearing, "stood silent while numerous false statements were made by alleged victims and erroneous statements of fact were presented by Ms. Maryann McKessy," the state's attorney.

Rosales argued, "The defendant wants the court to know that Mr. Allen and his law firm were not prepared to argue the false allegations and they destroyed any opportunity that the defendant had for a fair and accurate presentation of the facts."

He suggested a bond in the amount of $60,000 would be more than sufficient to secure his client's appearance for all hearings and trials, or in the alternative, he requested the bond amount remain the same but without the "cash only" requirement.

Reasserting Wise was not a flight risk, Rosales said, "Mr. Wise did not kill or murder anyone," and stated bond for a defendant he represented in a gang-related shooting was set at $15,000.

During oral arguments, Rosales said the state had Wise's passport as an assurance Wise was not a flight risk.

He said, "I believe a secured bond would be appropriate … I don't think a $100,000 bond is excessive."

Sean Gillespie, the only alleged victim who spoke on Friday as well as in July, addressed the court to say "nothing has changed" since July, stating, "This is becoming an additional financial burden."

Gillespie said this was a direct theft of money, citing some of the victims are still suffering and some are now indigent.

Believing Wise does in fact pose a "serious flight risk," Gillespie said, "Dan Wise has no reason to return to this court," and pleaded with the court to not reduce his bond.

McKessy reiterated that none of the facts had changed and there was no basis for asking the court for a "second bite from the apple."

She said it doesn't matter if the state has his passport, as he could still flee the jurisdiction.

"I know the moral fiber of the man," said McKessy, "I have seen him looking at the victims and smirking at them."

She pointed out there were other victims in the court, who were not victims in the matter at hand, but were victims of Wise's $70 million Ponzi scheme, who wanted their presence to be known.

Rosales argued there was no federal indictment and probably never would be with regard to the Ponzi scheme.

Rosales is currently under an order of probation for two years, imposed by a probable cause panelist in March 2008, for violations of Arizona Rules of Professional Conduct with respect to scope of representation, diligence and communication, as well as engaging in conduct that is prejudicial to the administration of justice. Rosales previously received an informal reprimand for rules violations in 2004.

Spencer said she obviously considered the allegations in this case but stated, "You do have a $67 million restitution order from the corporation commission. It gives your client a reason not to appear in this case."

She said, "I'm going to reduce it somewhat, but not by much," and ordered bond reduced from $500,000 cash only to $360,000 secured.

If released, Spencer ordered Wise to be placed on monitoring and not leave the state.

Meanwhile, Wise's wife Cynthia filed a motion for return of property, which she claimed was her sole and separate property seized by Scottsdale police officers on April 15 during a warranted search of their home.

She claimed the jewelry seized during that raid had been gifted to her over the years by her husband and was to be sold for the benefit of the alleged victims of Wise's criminal activity.

The pleading, filed by Attorney Cameron Morgan, states Wise is charged with theft of funds from three of his former accounting clients and said his wife's "jewelry has nothing to do with these alleged crimes and there is no probable cause to believe that it is evidence herein."

However, Sean and Elissa Gillespie, victims of these alleged crimes, filed an objection, as they have a RICO judgment in the amount of $1,575,000 against both Danny and Cynthia Wise that remains unpaid.

The matter was forwarded to Judge Susan Brnovich, who has yet to rule.

Following a settlement conference on Sept. 28, Wise's motion to continue was granted and Commissioner Julie Newell rescheduled trial for Jan. 20, 2010, with a final trial management conference set for Jan. 11.

The reduction in bond may not have helped Wise, who remains incarcerated at the Lower Buckeye Jail.