Vandals channeling Charles Manson?
By Linda Bentley | October 14, 2009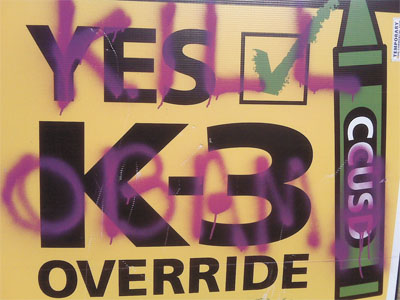 Manson believed the Beatles' song 'Helter Skelter' was about an apocalyptic race war between blacks and whites

CAVE CREEK – Maricopa County Sheriff Joe Arpaio called the defacing of two campaign signs in Cave Creek "a complete disgrace and gross act towards our president."
Deputies responded to a call last Thursday morning about two campaign signs, one advocating passage of two local ballot propositions, 400 and 401, the other Cave Creek Unified School District's K-3 override, defaced with "Kill Obama" spray-painted in purple.

One of the signs was located at Stagecoach Village, the other in front of Cartwright's Restaurant on Cave Creek Road.

Arpaio said deputies were looking into the incident as a top priority. However, as of Monday, there were still no known witnesses or suspects.

As word of the vandalism hit the media, e-mails poured into Sonoran News, including an unsigned e-mail from GoldMtnMin@aol.com, which linked a post by Dawn Tao, Huffington Post's Eyes&Ears Arizona Politics Correspondent, titled "'Kill Obama' painted on Phoenix-area campaign signs" and wrote, "This is in addition to the highly offensive 'Jesus is Lord' sign. Cave Creek is fast becoming the town to stay away from. Religious fanatics, hate mongers and images of the KKK abound."

Tao, who hails from Tennessee, currently lives in Mesa and has probably never visited Cave Creek, wrote about how the Southern Poverty Law Center says hate groups are growing in Arizona as she refers to areas that have recently experienced racially-inspired vandalism or will be hosting neo-Nazi events, although far removed from Cave Creek, as "another suburb of Phoenix."

Sonoran News received additional e-mails espousing racism and hate in response to the vandalism.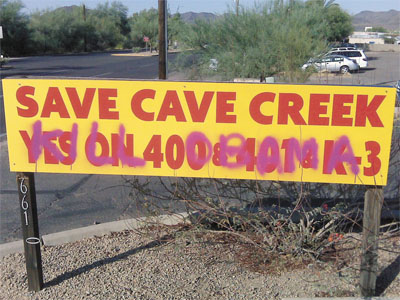 While the "Kill Obama" sentiments spray painted on campaign signs appear to have nothing to do with the local elections, they are reminiscent of the 1969 Manson Family murders of Sharon Tate, Roman Polanki's wife at the time, and Rosemary and Leno LaBianca, during which the victims were brutally butchered. In fact, many of the more than 40 stab wounds received by Rosemary LaBianca were inflicted post-mortem.

Charles Manson, 74, remains in prison, convicted of conspiracy to commit murder, although he was not physically present.

Manson believed the Beatles' song "Helter Skelter" was about an apocalyptic race war between blacks and whites and convinced Family members to help prod it along by trying to make the Tate/LaBianca murders appear racially motivated. Family members who took part in the brutal slayings wrote "Healter (sic) Skelter" and "Death to All Pigs" in the victims' blood on the LaBianca's refrigerator. They later drove to a predominantly black section of town where they hid a victim's wallet in a restroom, believing a black person would find it, use the credit cards and eventually be tied to the murders.

The "Kill Obama" statements sprayed across the face of the campaign signs seem similarly motivated, inasmuch as the vandal was attempting to make it look as though the act was committed by others.

Hateful e-mails submitted to Sonoran News seem to reinforce that theory.

Photos courtesy MCSO