Carefree Council meetings to remain on Tuesdays
By Linda Bentley | October 14, 2009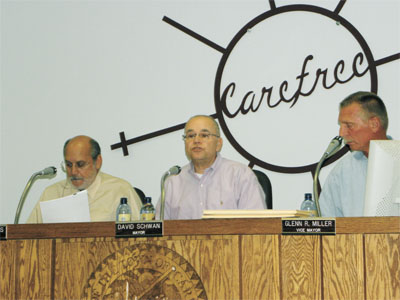 Mayor David Schwan (c) said "several members of council" requested moving council meetings from Tuesdays to Wednesdays, although council's discussion and vote indicated only Vice Mayor Miller (r) and Councilman Bob Gemmill (not pictured) favored the move, while Councilman Peter Koteas (l) indicated it would unduly burden his business travel. Photo by Linda Bentley


'It might be prudent to check with citizens of the town'
CAREFREE – Mayor David Schwan introduced an ordinance during the Oct. 6 council meeting to move council meetings from the first Tuesday of each month to the first Wednesday of each month, stating he was asked by several members of the council to change the date because of Labor Day and twice a year they have to move the meeting because elections are held in the same chambers.

Vice Mayor Glenn Miller said it was one of the things he'd been asking for and stated it would give council more time to review the material and give staff one extra day to prepare the council packets. He said it also would give them more time if council had any questions to ask staff.

He also said if there is a planning and zoning case it would give them more time to contact the applicant to make an appointment to visit the property.

Councilman Bob Gemmill said most of the issues he had were covered by Schwan and Miller.

Councilman Doug Stavoe said, "I don't see a compelling reason … It's worked for 25 years. If something needs more review, I suggest staff get the packets to us earlier."

Councilman Bob Coady said the planning cases are known about a month ahead of time and asked Miller how they were gaining more time if staff is also getting an extra day to make the packets.

Coady said he's been on council for 10 and a half years during which he's missed one meeting and said Tuesdays have worked for the past 25 years.

Councilwoman Susan Vanik asked if staff was consulted and if it would increase attendance, while commenting a time of day change might be something to think about.

Schwan said, "Staff said they serve council."

Councilman Peter Koteas said he travels for business and with the three-hour time difference to the east coast it leaves him less than two days in which he can do business.

Koteas said he already has two nonrefundable tickets.

During public comment, Jim Peirce read A.R.S. § 9-233, which states: "The common council shall, by ordinance, fix the time and place of holding stated meetings, and the council may be convened at any time by the mayor," and said the ordinance, as written, "contravenes state law," deferring to Town Attorney Tom Chenal, who said nothing.

Tom Rawles said, "I've heard compelling reasons not to," stating council should honor the commitments Mr. Koteas had already made.

Dick Stewart said he heard good reasons for leaving it where it is, adding, "It might be prudent to check with citizens of the town."

The motion failed by a vote of 2-5, with Miller and Gemmill voting in favor of the ordinance and Schwan citing his no vote was based on what Rawles had said. He said maybe a move to the second Tuesday of the month might be something to consider.