Another move to make Cave Creek a destination town
By Linda Bentley | October 7, 2009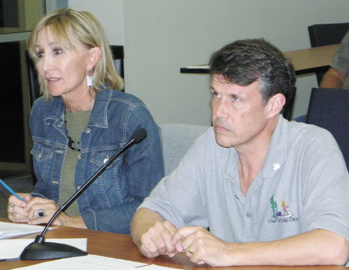 Photo: Associate Planner Bambi Muller and Planning Director Ian Cordwell listened as council expressed concerns over going from draconian regulations to virtually none as it pertains to special events being held on business properties within the town core. Photo by Linda Bentley

Resolution recognizes Cave Creek Ecosystem as 'Important Bird Area'
CAVE CREEK – During Monday's Call to the Public, former Councilman Thomas McGuire stated, "Last year has brought a new reality," as he acknowledged the sacrifices the town has made by laying off employees and reducing hours of those remaining.

"We need commercial development," said McGuire as he urged citizens to vote in favor of propositions 400 and 401.

Council voted unanimously to pass the second reading of an ordinance adopting the 2009 amendments to the town's tax code.

Council unanimously approved the second reading of an ordinance amending the Cave Creek Town Code Title XI Business Regulations by adding Chapter 114 Special Events.
As Planning Director Ian Cordwell explained, it removes Special Events from the zoning ordinance and places it in the town code, which all agreed made sense, as it is not a land use issue but an enforcement issue.

Cordwell and Associate Planner Bambi Muller then presented a resolution for amendments to the Special Events regulations which basically would only require permits if held on public property or in the public right-of-way.

Incorporating recommendations made by the planning commission, economic development committee, businesses and citizens, Cordwell said the intent was to allow businesses to use their property without requiring permits.

Councilman Dick Esser, who made the motion to approve, said, "I think it's something that's a benefit to the business core."

Vice Mayor Ernie Bunch, who seconded the motion, commented, "I think this is a move toward making Cave Creek a destination town again."

While Herb Natker previously suggested the town require a bond or some such assurances for cleanup after special events, Muller, who handles the special event permits, indicated it would be more trouble than it's worth and would be just another complicated process and stated, "I've never really had any issues."

Muller also said when the town receives money it must be deposited … "We can't hold it," meaning deposits could place undue hardship on nonprofit organizations.

The permit fee, formerly $500 for the for-profit sector and $25 for nonprofit organizations, was revised to be $100 for anyone.

Councilman Ralph Mozilo expressed concerns about having no control at all over events on private property and said there could conceivably be six events going on in town at the same time causing a problem with traffic.

Mayor Vincent Francia suggested including language so that if there is a problem with cleanup "the town will do something," such as decline their next permit application.

Bob Moore, who is on the economic development committee, said he had similar concerns as Mozilo, pointing out Dixie Green Promotions was the only business that has ever paid the $500 fee.

"Yes," Moore said, "Our overall objective is to encourage business and remove some of the draconian regulations … but we need to have something in place."

Cave Creek Coffee Company owner Todd Newman has been working with the town to create a checklist, which includes notifying Town Marshal Adam Stein of events taking place on business properties in town.

Newman said, "I'm very supportive of the notification process and if we impact traffic there are already regulations in place."

Agreeing with Mozilo, who previously stated his opposition to charging nonprofits $100, Newman said, "I don't think we should charge nonprofits."

He said his checklist also covers dust, lighting, parking and sound.

During public comment, Toby Payne said, "We're talking about the commercial core in general," citing Tonto Bar and Grill is not in the town core and was outside of the jurisdiction for enforcement.

He asked if there was a penalty for not submitting an application when required.

Staff reminded council the way the ordinance is written, the only special events requiring permits would be those that take place on public property or in the public right-of-way.

Mozilo said he would like to continue the item to the Oct. 19 meeting to add some sense of control without getting into the draconian regulations previously in place.

Bunch said, "I'm fearful we're going to swing the pendulum too far the other way."

Esser agreed there was a need for some control.

Councilman Steve LaMar said it might not work the way they want without any controls, while Councilman Adam Trenk expressed concerns over continuing the item.

Francia said it was more important to get it right than to do it in haste, and stated his concerns: "There has to be notification. We have to have the authority, if we reach a point of saturation that it becomes a safety issue, we can say no. We need to be aware of violations," and provided, for an example, "If you accrue three of them that you don't have the right to hold an event."

Mozilo's motion to continue the item to Oct. 19 passed unanimously.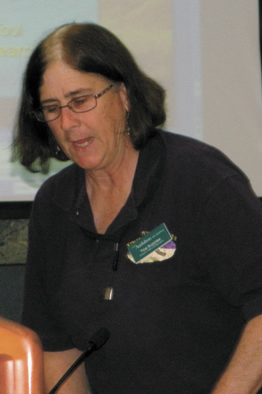 Tice Supplee, Audubon Arizona Director of Bird Conservation proposed Cave Creek pass a resolution, as part of an international program, designating the Cave Creek Ecosystem an Important Bird Area (IBA), the 37th Arizona site.

Supplee said the area follows the flood plain from Seven Springs in the Tonto National Forest through Walnut Creek, Spur Cross, Cottonwood Wash, Jewel of the Creek and on down to Carefree Highway.

She said the IBA's value was based on typical desert species and Audubon Arizona was asking council to formally recognize the area.

Bunch wanted to make certain a resolution wouldn't in any way restrict use of private property or convey rights of private property to others.

Supplee assured council it would not.

Mozilo asked if it would obligate the town in any way and if there was a cost associated with the designation in the way of signs.

Supplee said the Audubon Society would provide signs and said they would like to add the town's logo to them, but it would not cost or obligate the town to anything.

To ensure environmentalists would not be able to use the IBA designation to impede private property owners, Supplee was asked if there was a way to undo the designation if the town wished.

Supplee said, "Yes a site can be undone."

She said the program is the positive and will attract people to the area.

Mozilo, whose motion to approve the resolution carried unanimously, said, "This is truly a plus. I think it will have a positive economic impact."

Above photo: Tice Supplee, director of bird conservation, Audubon Arizona, requested the town pass a resolution officially designating a Cave Creek Ecosystem as an Audubon Important Bird Area. Photo by Linda Bentley