Sundial project becoming bigger conflict of interest for Miller
By Linda Bentley | September 9, 2009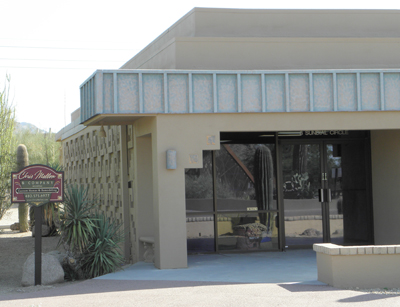 The Chris Mellon & Company sign at 8 Sundial Circle uses Back to Basics Corp.'s license number. Although Mellon told council the Registrar of Contractors had his DBA on file, the ROC repeatedly denied that claim, citing use of any name other than Back to Basics required a name change, which Mellon did Sept. 2.
Photo by Linda Bentley


Outsourcing does not a millwork specialist make

CAREFREE – After delving into the details, it looks as though Vice Mayor Glenn Miller's involvement in the bidding process and other tomfoolery to award the contract for improvements at 8 Sundial Circle to Chris Mellon & Company is even smarmier than it first appeared.

Miller worked with Town Administrator Gary Neiss on the invitation to bid, helped decide who would be invited and made the motion to award the bid to Back to Basics Corp. DBA Chris Mellon & Company, despite Back to Basics not being mentioned in Mellon's bid documents or on any of the three pieces of paper that comprised the council packet. Miller made the motion and then voted to award the bid to Mellon.

By doing so, Miller seems to have also voted himself into a job, as he's been spotted working on the project.

During the Aug. 25 council meeting, when the contract was awarded, both Neiss and Miller emphasized Mellon "specialized in millwork."

However, Mellon farms out his cabinetry work, using Omega, Aristocraft, Decora and others from the MasterBrand family of products, which are built in other states. Omega, for example, is located in Waterloo, Iowa.

Several people familiar with Mellon's work claim his main forte has been flooring and he only expanded his offerings to include cabinetry, all of which is outsourced, since moving to his new location.

On Sept. 1, Carefree resident Lyn Hitchon e-mailed Issue #6 of her "Carefree Truth" newsletter.

Hitchon explains only two of the eight contractors invited to bid "felt they would be able to complete the project within the required time frame, as they do their millwork in-house, rather than outsourcing it … the town received a firm price of $18,988 and the work will be completed by Sept. 23, in time … for the 25th Anniversary celebration."

Contractors debunked that "truth" on Aug. 26 when they told Sonoran News they might have submitted a bid had they been notified the deadline was extended from 9 a.m. to 1 p.m.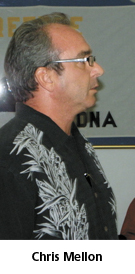 Hitchon then took a crack at defending Mellon for submitting his bid under Chris Mellon & Company rather than his licensed Back to Basics Corp., by claiming Back to Basics is the contractor side of the business and Chris Mellon & Company is the retail enterprise and does not need to be licensed by the Registrar of Contractors (ROC).

Sonoran News had already exposed that as malarkey and cited the ROC rule that requires businesses to use the name to which the license is issued.

On Sept. 2, Mellon added the DBA Chris Mellon & Company to his Back to Basics Corp. license.

However, prior to adding the DBA to his license, he had already emblazoned the name on his vehicles and had his contractor's sign for the Sundial project made.

Mellon even ran a full-page ad in a glossy magazine-style mailer, featuring Omega Cabinetry, advertising Chris Mellon & Company does "custom build's (sic), "remodeling," "from design to development," without any license number, as required by the ROC.

Hitchon then proclaims, with certainty, Mellon will have the job completed in time for Carefree's 25th Anniversary.

However, no such assurances are built into his contract. Sure, the bid packet specifies work must be completed by 12 noon on Sept. 23, but there's no penalty for missing that deadline.
And, while the Contractor Agreement states, "Contractor shall furnish to town a statement of the work performed for compensation … Town shall pay statement within 30 days of receipt.

Final payment shall be made within 40 days after final acceptance of the work," Mellon demanded and received a 50 percent deposit "for materials" with the "remaining balance of $9,494.22 to be paid upon notice of completion by town."

The town also waived Mellon's bid bond requirement.

Sonoran News has still not received the requested copies of any addenda or Mellon's certificate of Workers' Compensation Insurance, required "no later than within 10 days of receiving the "Notice of Award."

Both Gale Totten of T's Construction, the only other bid submitted, and Mellon acknowledged receiving Addendum #1.

The bid packet states all addenda must be in writing, "are to be included in the bid and will become a part of the contract."

On Saturday, a Carefree contractor, who asked not to be identified, questioned the criteria used to invite contractors to bid on the project, citing he was local, licensed and qualified but wasn't contacted.

And despite Neiss and Miller's claims that there were eight contractors at the pre-bid meeting and walk-through on Aug. 17, the sign-in sheet reflects seven: DRD, T's Construction, Phil Smith Custom Homes, MCH Builders, Holmes Construction, none of which have any complaints, and Chris Mellon & Company.

Hitchon says the town is getting "a really good price" because Miller, although not a contractor, "estimated the cost to be at most $30,000."

According to Miller's bio, he's a retired Chicago firefighter and a union electrician that owned and operated West Town Electric Inc.

In December 2002, Trustees of the Pension, Welfare and Vacation Fringe Benefit Funds of International Brotherhood of Electrical Workers (IBEW) Local 701 filed a complaint against Miller and West Town Electric Company, Inc., noting it was incorporated in November 1961, involuntarily dissolved in April 1992 and was never reinstated.

Nonetheless, according to court documents, on Feb. 3, 2000, Miller, signing as West Town Electric's vice president, authorized the DuPage County Division of the National Electrical Contractors Association (NECA) to be his collective bargaining representatives for all matters pertaining to the collective bargaining agreement between NECA and the IBEW.

The complaint states that Miller, as part of that collective bargaining agreement to make fringe benefit contributions on behalf of employees based on gross wages, also agreed to submit his books and records to an independent auditor to determine whether or not he was in compliance.

Plaintiffs said they were advised and had reason to believe, since March 1, 2000, Miller failed to make all required contributions and, although trustees made a demand for an audit of Miller's complete books and records, he refused.

The case was voluntarily dismissed without prejudice in May 2003 upon the plaintiffs' request.

New concerns have now surfaced surrounding Mellon's general contractor's license. Sources say one of Mellon's best friends worked in the licensing department of the ROC when Mellon's application for a license was approved in 1995 under The Mellon Corporation, which has since been dissolved.

Sonoran News is checking into that allegation.