Obituaries

Anne S. Wilson
Anne S. Wilson, 93, of Cave Creek, passed away on August 30, 2009. She was born in Lexington, Ky. and came to Arizona from Illinois 25 years ago.

Anne is survived by her husband James E. Wilson, daughter Kathryn (Tony) Ciccolella, her four grandchildren Alisa Panek, Michael Grossman and Joseph and Greg Ciccolella and six great grandchildren (with another on the way).

Her family will miss her terribly. Graveside services were held Thursday, September 3 in Phoenix. Contributions in her memory may be made to the American Cancer Society, 4550 E. Bell Rd. #126, Phoenix, AZ 85032. Arrangements by Sinai Mortuary.
Barry Myers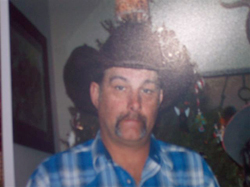 Long time Cave Creek business owner and New River resident Barry Myers passed away unexpectedly August 30 in a hospital in Montrose, Colo. He was 49 years old.

Barry Myers was born in Cuyahoga County, Ohio and educated in Chardon, Ohio, the graduating class of 1978.

Barry moved to the Cave Creek area from Ohio in 1981 and fit right into the easy going southwestern lifestyle of the Desert Foothills.

He was a faithful community supporter donating to many local organizations including the DFCA Fiesta Days Rodeo and Muttin Bustin'.

Barry was a loving and devoted father, an avid outdoorsman, a great friend, quick with a joke and a smile and a true Cowboy. All who have known and loved him will dearly miss him, especially long-time companions.

He is survived by his daughter Ashley, son Justin and brothers Patrick and Tim (Julie).
On September 10 memorial services will be held at American Legion Post #34 from 3 – 4 p.m. and a celebration of his life will be held at The Buffalo Chip Saloon and Steakhouse from 4 – 7 p.m.

In lieu of flowers the family requests donations be made in his name to Foothills Animal Rescue (FoothillsAnimalRescue. org or mail to FAR, P.O. Box 4865, Cave Creek, AZ 85327) or American Legion Post #34 (mail to American Legion Post #34, P.O. Box 41, Cave Creek, AZ 85327).