'Grumpy old men' agree to plea
By Linda Bentley | September 2, 2009
CAVE CREEK – Jimmy Moore, 71 and Kenneth DePue, 66 each had their day in court on Friday, although this time they appeared before Municipal Court Judge K.C. Skull separately rather than together as they did two weeks ago when their trial and an attempt to settle the matter fell apart.

Both were facing criminal charges of assault and disorderly conduct for engaging in a fight at Petite Acres, the trailer park at 6800 E. Cave Creek Road where they both reside.
MCSO Reports and witness accounts seemed to conflict as to who started the fight, so charges were brought against both men.

Moore only learned after showing up for trial on Aug. 14 that his attorney, who failed to show up, was suspended from practicing law in Arizona.

An attempt to settle the matter failed when Town Prosecutor Mark Iacovino threw a handshake between the two men into the deal, which DePue refused to do, calling the notion "repulsive."

Moore, who said he would require a public defender to proceed to trial, which was then set for Aug. 28, was subsequently assigned Attorney Ken Bemis.

On Aug. 28, Moore accepted the plea agreement offered by Iacovino, whereas he pled guilty to disorderly conduct by having engaged in behavior disturbing others, with the charge of assault dismissed.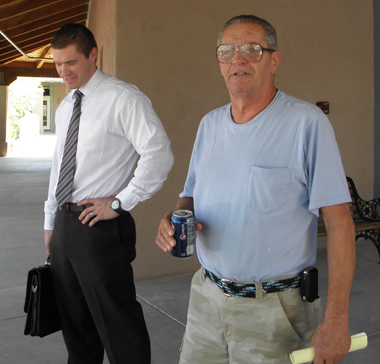 Neither Moore nor DePue had any prior criminal records.

Skull deferred judgment and sentencing for six months, at which time, if Moore did not engage in any other illegal conduct, all charges would be dismissed.

A short while afterwards, DePue appeared before Skull and pled guilty to the same charge.
He too was granted deferred judgment and sentencing for six months with the promise of dismissal if he got into no other trouble.

Skull apprised DePue of his right to file a Rule 32 petition.

Rule 32 of Arizona Rules of Criminal Procedure allows a person to seek post-conviction relief of another court's ruling, where it's not a direct appeal issue or where a person changed his plea from guilty to not-guilty and not entitled to appeal.

Both attorneys believed their respective clients received a good outcome this time around because they would eventually have the charges completely dismissed.

However, DePue said afterward he never should have been in court and was only defending himself against Moore, whom DePue said took the first swipe at him.

Under the circumstances, though, with a he said – he said report by deputies that arrived after the fight was over, DePue agreed it was the best outcome to be expected.

DePue's Attorney Daniel Caffana said DePue obtained a restraining order against Moore in the event there should be another incident.

Bemis, as he read the Aug. 19 Sonoran News article titled, "Stubborn old men whittling away at scarce town resources," which included an account of the men's Aug. 14 day in court, suggested the headline should have read: "Grumpy old men …"

Photo: As he left the courtroom with his attorney Daniel Caffana, Kenneth DePue (r) said if a witness had "just told the truth" to the MCSO deputies, he would have never had to go to court.
Photo by Linda Bentley