Meet tortoise Frankee Wooldridge!
By Pete Mohr | August 26, 2009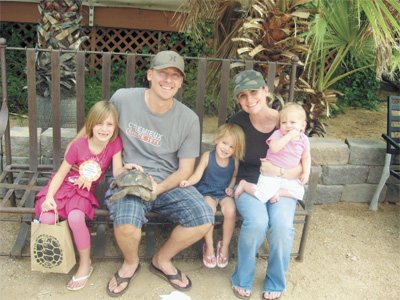 Dad Ashley Wooldridge held newly-adopted tortoise Frankee; oldest daughter Carlee, 6, offered a tentative touch; and Mom Jamie helped keep still daughters Kanadee, 2, and Averee, 9 months, at last Saturday's final Desert Tortoise adoption for 2009 at Phoenix Herpetological Society. Frankee becomes a member of the Woolridge family in Sun City. Tortoise adoptions will resume in April 2010.
Eco-friendly desert gardening ideas
By Greg V. Smith | August 26, 2009
Workshop Sept. 16 at Cave Creek Coffee Company

Are you spending more to maintain your desert landscape and getting less?

Do you detest the skull-shattering racket of gas-powered leaf blowers at dawn, and wonder what you're getting for your money besides the next-best thing to urban jackhammers? Are you puzzled when the guys work on the yard every week, yet the bushes never bloom?

Questions like these will be answered Sept. 16 in Cave Creek at "Eco-friendly Techniques for Desert Gardening," a workshop offered by the Phoenix Permaculture Guild in cooperation with the Mayor's Green Advisory Committee.

The 7 p.m. session at Cave Creek Coffee Co. – brought to the Valley's far north for the first time at the green committee's invitation – will reveal the keys to creating ecological systems that minimize work while fostering sustainability.

"It's all about little shifts," says Doreen Pollack, a guild board member who will lead the workshop. "Most people think: if I don't hear the leaf blower I know the landscapers aren't doing their job. This is how we've all done it. But there's a better way. And it saves money."

Instead of blowing the leaves away you can compost them, producing chemical-free, top-quality fertilizer that costs nothing and takes little effort. And no more paying for leaf-blowing. "I use the compost from the leaves and I don't have to pay anybody to come in and fertilize my trees," Pollack said.

Ever see a ragged purple sage in raging full bloom – then notice its cousins down the street pruned into perfect squares showing zero purple color?

"People say 'My plants never bloom,'" Pollack said, "The landscape company comes in and trims them too often and they never bloom. You can get better results, healthier plants and save money at the same time by not pruning them."

As water becomes more expensive and scarce, it's smart to design your garden to take advantage of rainfall, Pollack said. "You direct all that rainwater into where your vegetables grow," she said. "Nature's rain will go and water your garden for you. It's just knowing how to read your property."

Attendees can learn many similar lessons in the introductory workshop by the guild, a nonprofit organization dedicated to educating and inspiring sustainable living. A tax-deductible $10 donation will be requested at the door.

Participants will learn how to:
• Observe elements in nature that support sustainable gardens, landscapes and communities.
• Replicate nature and use fewer resources, less time and money.
• Lessen their impact on the environment.

To register for the workshop, visit phoenixpermaculture.org.