Bob Coady named recycling representative of the year
By Linda Bentley | August 26, 2009
PHOENIX – The Arizona Recycling Coalition (ARC) held a joint conference with the Arizona Public Works Association on Aug. 17 and 18 at the Phoenix Convention Center, where ARC honored individuals, companies and organizations at a special awards luncheon for "excellent service and innovations that improve Arizona's environment."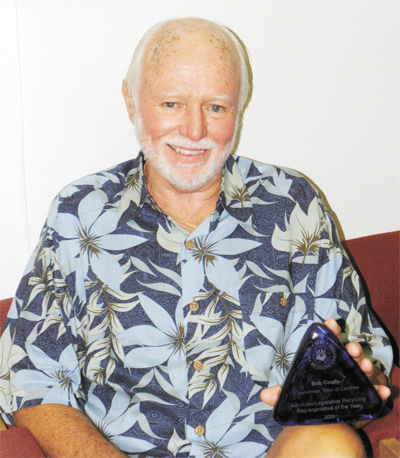 Carefree Councilman Bob Coady was named Advocate/
Legislative Recycling Representative of the Year.

Sheree Sepulveda, a member of the City of Chandler's Green Building Task Force, was named Municipality Recycling Representative of the Year.

Other awards went to Dawn Ratcliff of ASU for School Recycling; Anne Goldfield of Resources for Health for Nonprofit Recycling; and a Lifetime Achievement Award was presented to Wilson Hughes, waste reduction planner with the city of Tucson.

Recycling at NASCAR, a joint project of Basha's, Phoenix International Raceway, Valleywide Recycling Partnership and City of Avondale, was named Business Recycling Project of the Year.

Songee Barker, a junior honors student, twirler and diver at Cactus Shadows High School, who was crowned Miss United States Teen-Fire at the Miss Earth pageant in Primm, Nev. last month, also attended the conference as a proud member of ARC.

Barker will be an advocate of the Miss Earth Organization, also known as Beauties for a Cause, throughout the next year with a focus on the three Rs: reduce, reuse and recycle.
Coady cites bulbs and pills as two of the largest environmental hazards we face today.

According to Coady, fluorescent tubes and compact fluorescent light bulbs (CFL), two great energy savers that have inundated the marketplace, are potential environmental disasters.
Just one tube contains enough mercury to contaminate 33,000 liters of water.

And, while millions of these bulbs are sold every year, Coady said no effective plan has been developed to recycle or safely dispose of them.

During a recycling expo Coady attended six years ago, he was introduced to an odd-looking machine that was demonstrated as being able to safely pulverize fluorescent bulbs while safely containing the mercury.

Coady believed the machine, which costs just under $4,000, would be a perfect addition to the town's recycling program and two were subsequently purchased.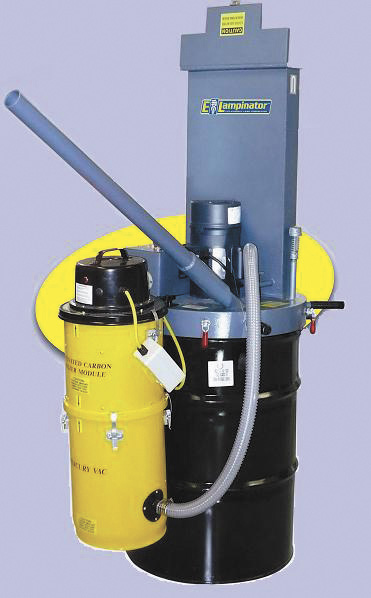 When asked what happens to the mercury, Coady explained the machine has a 55-gallon drum that contains the pulverized glass while an industrial vacuum draws the mercury out through a process that turns it to vapor. The vapor is then processed through a series of specially treated filters where it dissipates without being released into the air. The filter must be replaced after 300,000 bulbs.

The rest of the bulbs' contents (aluminum, phosphorus and glass) – if the test, which the machine performs, comes out negative for mercury – can be recycled by through a single recycler that will come and pick up the contents of the drum for $100.

The machine can grind up approximately 1,000 tubes before the drum needs to be emptied.
Karsten's Ace Hardware in Carefree offered its store as a drop-off site for bulbs during business hours. Coady's recycling program volunteers would then pick them up.

"Our program became a community project with the town, residents and business working together," said Coady.

Because the project proved so easy and cost effective, Coady said he was invited to meet with Rep. Ted Poe, R-Texas, in Washington, D.C. to discuss his program, as well as with Calif. Assemblyman George Runner, whose district represents portions of Los Angeles, San Bernardino and Ventura counties.

Bill Thornton, director, Maricopa County Solid Waste Department, purchased six machines for the county's recycle locations.

Prescription drugs and other medications have become a large environmental concern as there is documented evidence that drugs, many of which are not rendered inert through wastewater treatment facilities, are contaminating our lakes, rivers, groundwater and drinking water.

Although hospitals, nursing homes and long-term care facilities are not required to keep records of the disposal of pharmaceutical products, it is estimated they dump an estimated 250 million pounds of pharmacologically active drugs into public sewer systems and landfills across the country each year in an effort to prevent them from getting into the hands of children or other unauthorized persons.

When people die, some states have laws requiring leftover medications be flushed down the toilet.

According to the 2000 census, the median age in Carefree was 55.2, 20 years older than the median age for the state, so Coady realized how large a problem this could be at just the local level.

Coady learned the Maricopa County Sheriff's Office safely disposed of confiscated drugs by incinerating them through an authorized hazmat disposal company and was able to set up a program with MCSO where citizens could hand over their unwanted/unneeded drugs directly to a deputy. Those drugs are then safely incinerated along with the department's confiscated drugs.

After holding three drug disposal events, Coady said, "We have prevented approximately 200 pounds of drugs from being flushed, leached into groundwater or misused by children," adding, "Not bad for a town of 3,000."

Top photo: Carefree Councilman Bob Coady returned from the Arizona Recycling Coalition 2009 Statewide Conference Awards Luncheon on Aug. 18 with a recycled glass award naming him Advocate/ Legislative Recycling Representative of the Year.
Photo by Linda Bentley

Lower photo: Elampinator fluorescent bulb compactor similar to those purchased for Carefree's recycling program.