Carefree Council bases vote on erroneous staff report
By Linda Bentley | August 26, 2009
'Mr. Mellon is a licensed, bonded and insured Carefree contractor who specializes in millwork'
CAREFREE – Council held a special meeting on Tuesday at 3 p.m. voting 6-1, with Councilman Bob Coady dissenting, in favor of awarding a contract to Chris Mellon and Company to make minor tenant improvements to the 8 Sundial Circle building.

Planning Director Gary Neiss provided council with an overview of the work being bid and explained the changes needed and the bidding process.

He said eight local contractors were invited to a pre-bid meeting on Monday, Aug. 17 to review the scope of work, with sealed bids due by 1 p.m. on Friday, Aug. 21. He said the bids were sealed and were all opened at the same time.

The log sheet included in the council packet indicated T's Construction and Development, Inc. dropped off a bid for $19,000 at 11:17 a.m. on Friday.

Chris Mellon and Company was logged in as dropping off an $18,988 bid at 12:09 p.m. that same day.

No other bids were received.

Neiss stated there was a lot of millwork that needed to get done, Mellon specialized in millwork and was the lowest bidder.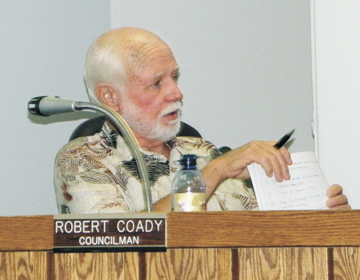 Councilman Bob Coady asked Neiss if the name was Melon or Mellon, pointing out it was spelled Melon on the bid log sheet and twice in the staff report, where it was also spelled once as Mellon.

Neiss said the spelling was Mellon.

Coady then asked who verified the information, put the summary together and did the background check.

Neiss stated he and Vice Mayor Glenn Miller put it together.

"Is Chris Mellon and Company registered?" asked Coady.

"Yes," said Neiss, "This is what's been represented to us."

Coady asked if Neiss found any irregularities when he looked Chris Mellon and Company up on the Registrar of Contractors (ROC) website.

Neiss said there were a couple of open complaints but stated just like in a court of law, they are considered innocent until proven guilty.

Coady said he spoke to two people at the ROC who stated the only company licensed for Mellon was called Back to Basics Corp. and pointed out that name did not appear anywhere on the bid.

The ROC told Coady the town should be very careful about what name is used on the bid because Chris Mellon and Company is not licensed.

The town attorney claimed Coady was putting form over substance and said council would simply need to revise its motion and its contract to say Back to Basics Corp. DBA Chris Mellon and Company.

Chris Mellon claimed the bid was submitted under the name Back to Basics Corp., which Neiss corroborated by saying the bid was submitted as Chris Mellon and Company with the initials BTBC underneath.

Mellon said Chris Mellon and Company is on file with the ROC and he uses that name on all his vehicles.

Coady said he still had concerns.

Councilwoman Susan Vanik asked, since it was only a $12 difference, if it mattered which bid they accepted.

Neiss said it had to be the lowest bid.

Miller moved to approve the award of contract to Back to Basics Corp DBA Chris Mellon and Company, with Bob Gemmill seconding the motion.

Councilman Doug Stavoe stated, as council well knew, he was fundamentally opposed to the move and spending more money. Stavoe said he didn't believe council had spent enough time investigating doing something other than moving town hall.

Mayor David Schwan, currently the subject of a recall drive, said, "I take exception to your comment that this has not been adequately investigated."

Sonoran News did a bit of investigating before and after the meeting and found there is no such company as Chris Mellon and Company and, contrary to what was stated at the council meeting by both Neiss and Mellon, the name is neither registered with the ROC or with the Arizona Corporation Commission (ACC).

Mellon and his wife Carrie used to have a company called The Mellon Corporation in Surprise, but it was dissolved by the Arizona Corporation Commission in 2002 for failure to file annual reports. It was registered with the ACC as a construction company. However, the company was never licensed by the Registrar of Contractors.

Mellon has only been a licensed contractor since June 2004.

He used to be involved with a company called the Floor Depot, under which he and his wife and partners were sued on more than one occasion.

Chris Mellon's only general contracting license is issued to Back to Basics Corp., which was formed in 2005 when Mellon lived in Glendale.

In 2006, the company moved to Anthem.

It moved again in 2007 to 7401 Easy Street in Carefree and again in 2008 to 7509 E. Cave Creek Road in Carefree.

According to the ROC, Back to Basics has one resolved complaint and two open complaints. All of the complaints involve allegations of nonpayment of subcontractors.

The resolved complaint was with Acacia Tile, while the open complaints involve Lay Me Too Tile, filed in May 2009, and Arizona Fireplaces, filed earlier this month.

Mellon has also filed bankruptcy four times, once in New Jersey and three times in Arizona, most recently in 2003.

Numerous judgments have been won against Mellon, his home in Glendale was sold in a trustee sale to satisfy debts and Mellon spent six months in the Arizona Department of Corrections for a felony aggravated DUI, although his rights have since been restored.

As far as using a DBA to bid or work as a contractor, two different employees in the ROC's licensing department confirmed a contractor must do business under the name licensed and cited Rule R4-9-109 Name of Licensee or Applicant, which states: "A licensee shall do business under the name on the license issued and ensure that the same name is used on the license bond."

According to Debbie in licensing, Mellon cannot contract under any name other than Back to Basics Corp. and if he wishes to do business under any other name, he would need to file for a name change to reflect Back to Basics Corp. DBA Chris Mellon and Company, for example.

She also said Mellon cannot use any other name to advertise, on a T-shirt, vehicle, business card or anything, reiterating the license is issued to the corporation not the person.

Photo: Councilman Bob Coady was the only member of council to perform any due diligence with respect to a bid submitted by Chris Mellon and Company for improvements to 8 Sundial Circle and the only one to challenge erroneous information provided by Planning Director Gary Neiss and Vice Mayor Glenn Miller.
Photo by Linda Bentley