Stubborn old men whittling away at scarce town resources
By Linda Bentley | August 19, 2009
CAVE CREEK – Neighbors Kenneth L. DePue, 66, and Jimmy P. Moore, 71, who reside in Petite Acres trailer park at 6800 E. Cave Creek Road, became engaged in a fist fight back in March in the middle of the trailer park.

Another neighbor attempted to break up the fight to no avail and called the Maricopa County Sheriff's Office.

Each of the men claimed the other had started the fight. However, since neither one latched on to any opportunity to walk away or end the fight, both DePue and Moore were cited for one count each of assault and disorderly conduct/fighting.

Moore contacted Attorney James J. McMahon, Jr., who filed a notice of appearance in April.
When the men decided to go to trial on the matter, the court decided to try them together to save on resources since the charges arose out of the same incident.

Cave Creek Municipal Judge George Preston recused himself from the case during the April pretrial conference and DePue filed a motion to continue in June with trial reset for Friday, Aug. 14.

Both men arrived for their bench trial last Friday, with Attorney Daniel J. Caffana representing DePue as his court appointed public defender.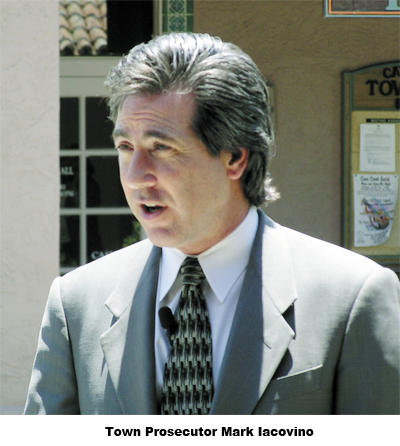 Moore mentioned to Town Prosecutor Mark Iacovino that his attorney wasn't present. It was already an hour past the 1:30 p.m. time scheduled for trial due to the court finishing up a full docket of pretrial conferences with plea agreements.

Iacovino first explained privately to Judge K.C. Skull, Carefree's Magistrate, who would be hearing the case, then to Moore and then to the court, that during the pendency of the case he had been trying to get a hold of McMahon.

Iacovino said he looked McMahon up on the state bar's website to try to find a phone number only to find McMahon had been "summarily suspended."

The Arizona State Bar website states, "An Arizona lawyer may be summarily suspended for several reasons, including failing to complete mandatory continuing legal education requirements. Such a lawyer is not allowed to practice law in Arizona."

Originally admitted to the New York State Bar in 1970, McMahon's status was reflected as delinquent there as well.

Skull stated, "I want you to understand, I have discussed the issue regarding Mr. Moore's attorney, but we did not discuss any of the facts of the case."

Skull then asked Iacovino how he wished to proceed.

Iacovino told the court, "From the day I first read this report, I shook my head and felt Cave Creek has already spent too much of the town's scarce resources," and said he had an idea of how to resolve the matter.

Skull called a five-minute recess so Iacovino could discuss his proposal with the defendants.
Iacovino said he could resolve the case right then, but it would be on his terms. He proposed to dismiss all the charges if the two men agreed to "apologize to each other, shake hands and agree to be better neighbors."

He said, "Otherwise, we can reset this for trial and I can tell you I'm fairly certain what the outcome will probably be."

Moore said he would agree.

However, DePue said, "I will agree to mind my own business like I always do, but shaking his hand is out of the question. I'm not going to do something repulsive to me."

Iacovino shrugged while reiterating the proposal was to be on his terms.

DePue then said, "I'm more stubborn than you'll ever be."

When Skull returned he asked, "What are we doing?"

Iacovino responded, "We are unable to resolve this thing."

Moore stated he was going to need a lawyer, as he completed the forms for a public defender.

As Skull reviewed Moore's application, he stated, "It would appear you would be entitled to a public defender."

Verifying everyone's availability, Skull then reset the trial for 1:30 p.m. on Aug. 28, while admonishing Moore to "contact that lawyer as soon as possible," adding "We need to get this case resolved."

Shaking his head as he walked away, Iacovino grumbled, "More resources."