Minuteman president linked to property tax scam
By Linda Bentley | August 19, 2009
Minuteman Civil Defense Corps (MCDC) President Carmen Mercer, pictured at a border watch operation at Three
Points, Ariz., has been implicated in a property tax scam.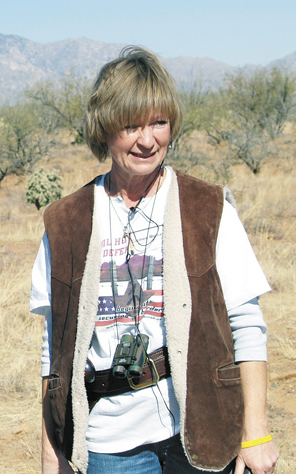 PHOENIX – On Aug. 14, Arizona Attorney General Terry Goddard announced he had filed a complaint and obtained a temporary restraining order to stop the perpetrators of an alleged fraud that claimed property owners qualified for a "property tax reduction review."

The civil complaint names Property Tax Review Board, Inc. (PTRB) of Granada Hills, Calif.; PTRB's CEO and Director Michael McConville of Simi Valley, Calif.; and Carmen Mercer of Tombstone, Ariz., the individual authorized to collect mail delivered to PTRB at its post office box in Phoenix.

Around Aug. 3, Maricopa County Assessor Keith Russell said his office began receiving numerous calls from Maricopa County residents about a solicitation they received in the mail titled "2009 Property Tax Reduction Form."

The solicitation from PTRB offered property owners a "tax reduction review" for $189, citing their property "may be over assessed for tax purposes" and included an "estimated savings" that might be realized by the property owner.

While the mailer states the authorization is for the current tax year, Russell said the deadline for appealing 2009 property valuations has long lapsed.

Russell stated in his declaration, "It no longer is possible for a property owner to appeal their property valuations" for 2009 and, therefore, PTRB "cannot provide the services that it is offering" in the solicitation.

Pima County Assessor Bill Staples provided the AG's office with a memo outlining the statute, process and deadlines for filing appeals, which is also printed on its valuation notices.

Navajo County Chief Deputy Assessor Darlene Fraley, who received a PTRB solicitation for property she owns, also submitted a declaration.

Fraley said the mailer indicated her 2009 property taxes could be reduced by an estimated $668.20 if a check in the amount of $189 was mailed to PTRB in the pre-addressed envelope to P.O. Box 66762, Phoenix, AZ 85082 provided with the solicitation.

As chief deputy assessor of Navajo County, Fraley said she is familiar with the procedures and deadlines associated with the payment of real property tax bills and the various means of appealing valuation, pointing out all have expired for the 2009 tax year.

"Additionally, the estimated savings shown on the attached solicitation are unrealistic," said Fraley, noting the 2008 real estate taxes for the parcel identified in the solicitation were $701.46, an amount PTRB claimed could be reduced by an estimated $668.20.

Goddard is seeking to permanently restrain defendants from representing to any Arizona property owner that a property tax reduction can be obtained on their behalf, operating any business in Arizona claiming to offer property tax reduction services and receiving money from any Arizona property owner that responds to the solicitation.

The complaint also seeks to impose an order of restitution to all consumers who submitted payments for PTRB's services and for defendants to pay a fine of $10,000 for each violation of the Arizona Consumer Fraud Act.

Earlier this year, many Minuteman organizations and other border watch groups were relieved they had long ago distanced themselves from Shawna Forde, who ended up starting her own group, Minutemen American Defense (MAD), and sullied the Minuteman name when she falsely reported to Everett, Wash. police she was beaten and raped in the home of her estranged husband on Dec. 29, 2008, only a week after her husband was reportedly shot three times at the same location. She reported a subsequent incident, claiming to have been shot while walking alone in an alley. She claimed drug cartels were probably after her because of her border activities.

People who knew or knew of Forde said the assault and rape sounded like a hoax and the superficial gunshot wound was probably self-inflicted.

Police apparently drew the same conclusions and closed their investigation.

In June, Forde was indicted along with two accomplices, Jason Eugene Bush and Albert Robert Gaxiola, for a May 30 home invasion in Arivaca, Ariz. that left Raul "Junior" Flores, 29, and his 9-year-old daughter Brisenia dead from gunshot wounds to the head and Flores' wife Gina Marie Gonzalez, 31, wounded.

Bush is the suspected gunman, although investigators believe Forde was the mastermind who allegedly told her accomplices they would be able to obtain a large amount of cash and drugs.

The Pima County Attorney is seeking the death penalty for all three.

Mercer is also president of Minuteman Civil Defense Corps (MCDC). However, since the organization has failed to file its May 20, 2009 annual report, it still reflects Chris Simcox as president and Mercer as vice president and treasurer.

MCDC Vice President and National Director Al Garza
resigned from the organization Aug. 1, citing the
organization is on a path he cannot endorse.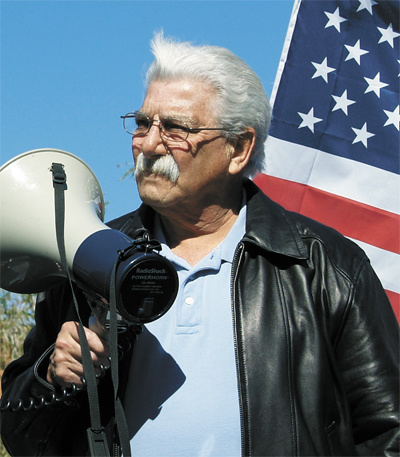 On Aug. 1, Al Garza, the organization's vice president and national director, tendered his resignation.

Garza stated it had been a pleasure working alongside his friends Mercer and Simcox for the past several years "in pursuit of a mission to secure our borders and protect our national sovereignty," adding, "Unfortunately, the public perception of the Minutemen has been tainted by our detractors and the media, which has successfully been enflamed by the internal and unnecessary strife. I do not see an end in sight for the problems plaguing what was once the greatest citizen movement in America."

Goddard's office confirmed Mercer, who claims she was asked to open the post office box for a friend and did not know its intended purpose, has been cooperating with investigators and has turned over to U.S. Postal Inspectors the post office box and the more than 1,000 responses received from PTRB's solicitation.

While Garza, a retired private investigator, did not elaborate when he said "the organization is now on a path I cannot endorse," he never envisioned Mercer being implicated in a property tax scam.

Photos by Linda Bentley