The color of communism
By Linda Bentley | August 19, 2009
Anthony "Van" Jones, a self-professed communist and author of New York Times bestseller "The Green Collar Economy," was selected to be Obamaís "Green Czar."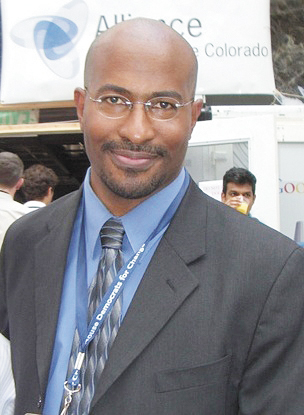 Is green the new Red?
An organized campaign through ColorOfChange.org has won another round against free speech as it has gotten approximately 75,000 of its members to sign a petition directed at advertisers seen on the Fox News Network during the Glenn Beck Program to boycott Beck's program.

Colorofchange.org takes credit for getting GEICO, Progressive Insurance, Proctor & Gamble and SC Johnson to pull their ads from Beck's show.

The organization says Beck's show, which airs at 5 p.m. weekdays, is filled with hateful rhetoric and believes Beck's comments about President Obama being a racist with "deep-seated hatred for white people" provides divisive misinformation to his audience in an entertaining manner.

The "featured campaign" announced on ColorOfChange.org's website is "Stop Glenn Beck's race baiting."

Referencing Beck's comments about Obama being a racist, it states, "Beck is on a campaign to convince the American public that President Obama's agenda is about serving the needs of black communities at white people's expense. It's repulsive, divisive and shouldn't be on the air.

"Join us in calling on Beck's advertisers to stop sponsoring his show."

ColorOfChange.org says it exists to strengthen black America's political voice. Its goal is to "make government more responsive to the concerns of black Americans and bring about positive political social change for everyone."

Who's behind ColorOfChange.org?

Its executive director and co-founder James Rucker hails from MoveOn.org, a George Soros funded organization.

Former staff member Anthony "Van" Kapel Jones, who co-founded the organization in 2005, moved on to other pursuits in 2007, including the founding of Green for All.

Jones served as executive director of that organization, which, according to the ColorOfChange.org website, was "dedicated to creating opportunities for low-income communities connected to the greater effort of addressing climate change."

Jones, author of the 2008 New York Times best seller, "The Green Collar Economy," is now the Special Advisor for the Green Jobs at the White House Council on Environmental Quality, otherwise known as Obama's "Green Czar."

Jones is also a self-professed communist.

In 1992, after the jury returned not guilty verdicts for the cops accused of beating Rodney King, mass rioting ensued.

Jones decided to partake in the riots, which led to a jail sentence.

According to Jones, as quoted in the East Bay Express in 2005, "I spent the next ten years of my life working with a lot of those people I met in jail, trying to be a revolutionary."

He said he went to jail "a rowdy nationalist" and came out a communist.

Jones was also a member of a revolutionary organization in San Francisco in the early 90s called Standing Together to Organize a Revolutionary Movement, or STORM, which controlled other front organizations such as Bay Area Police Watch; School Of Unity and Liberation or SOUL, a Marxist organization; and People Organized to Win Rights or POWER, focused on unemployment rights.

Jones founded the Ella Baker Human Rights Center, an Oakland-based organization working for "justice, opportunity and peace in urban America," with the help of his friend and mentor Elizabeth "Betita" Martinez, who began as a Maoist but by then had already transitioned to a break-off group from the Communist Party USA called Committees of Correspondence for Democracy and Socialism.

As a communist and czar appointed by Obama, Jones bypassed congressional confirmation hearings as did all the 30 some odd czars that appear to be the makings of a shadow cabinet, one that hasn't gone through the legal process.

Like Obama, Jones, who is a graduate of Yale Law School, is using his skills as a community organizer to wrap all segments of social and economic justice by including labor and the environment.