It's not nice to shatter people's windshields
By Linda Bentley | August 19, 2009
Even if they do have full glass coverage
CAVE CREEK – There was a lengthy docket set for pretrial conferences on Aug. 14 in Cave Creek Municipal Court. At first it looked as though there would be no prosecutor to handle them.

Cave Creek Town Prosecutor Mark Iacovino was finishing up a trial in another jurisdiction and Attorney Ken Holmes, who has regularly assisted Iacovino, was out of town.

Fortunately, Carefree holds its pretrial conferences on a different day, making Carefree Town Prosecutor Tom Parascandola available. He helped out until Iacovino arrived at around 10:45 a.m.

Pat Fowler sat quietly in court as Julia Lee Davidson entered a plea agreement on charges of criminal damage and disorderly conduct.

Fowler allowed Davidson to move into her home in exchange for Davidson helping her with the care of rescued animals.

In June, Davidson apparently picked something up and smashed the windshield on Fowler's vehicle, completely shattering it, while Fowler was in the vehicle.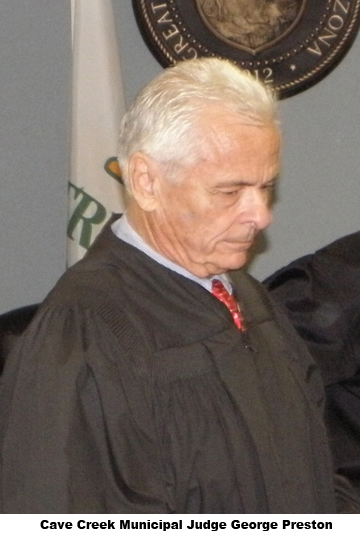 Cave Creek Municipal Court Judge George Preston asked Fowler if she had anything to say before he sentenced Davidson.

Fowler shook her head and said she did not.

Alcohol may have been the culprit driving Davidson's behavior that day since her sentence included attendance in an alcohol screening program.

She was also ordered to pay $270 in fines, serve two years of unsupervised probation and not to have any contact whatsoever with the victim.

No restitution was ordered since Fowler's insurance included full glass coverage and repaired her windshield at no additional cost.

Parascandola plowed through a host of cases involving minors, some as young as 15, who all appeared with a parent to handle charges of underage drinking sprinkled with some curfew violations.

Several of the cases stem from the same incident in which the kids all attended a party at a home of a friend at the end of a cul-de-sac, with some of the party spilling out onto the street.

Apparently, an older sister of the girl hosting the party procured alcohol for them, which, according to several of the defendants as they stood before Preston with their plea agreements, was in the form of beer.

The punishment, however, seemed to fall harder on the parents, who were burdened with filling out time payment applications to pay the fines as their son or daughter sat back and watched.

Preston stated alcohol classes could now also be completed online but said, "I think it's better to be in a class with a bunch of smelly drunks and have a person speaking to the class."

The underage drinker appeared excited at the notion of being able to complete the alcohol class online until her mother, agreeing with Preston said, "I do too."

Preston responded, "Let's do that then."

According to the incident report, some of the kids indicated to deputies they also smoke marijuana, although it didn't appear they had done so on this occasion.

When asked if the sister who provided the alcohol to the underage partygoers was charged, the court stated it had not received anything to that effect.

Juan Barboza was in court for failure to appear after he was cited in August 2008 for a speeding violation and which resulted in the suspension of his license.

When Preston said, "I hope you're not driving today," Barboza indicated he wasn't and pointed out the person who had driven him to court.

Preston imposed a fine of $770 and said MVD would be re-suspending Barboza's license for a "light period," although he said he doesn't know exactly what MVD means by that.

A warrant was issued for Marie Diaz-Ruvalcaba, who was appearing in court for failure to appear after being cited last October for underage consumption, driving without a valid Arizona license, no license or ID, no insurance and underage drinking and driving.

Diaz-Ruvalcaba, who turned 21 in April, appeared before Preston with both a Spanish interpreter and a public defender.

Preston stated there was a two-year mandatory license suspension associated with the underage drinking violation and explained if she was not a citizen of the United States, pleading guilty could affect her immigration status and prevent her from ever becoming a U.S. citizen.

Preston also stated if she could provide proof of insurance coverage at the time she was cited, he could reduce the fine substantially.

Kyle Burt was appearing for a first offense DUI with blood alcohol content (BAC) of .09. He was initially stopped for no headlights and failure to use turn signals.

He was ordered the mandatory minimum of 10 days in jail with nine suspended providing he completes an alcohol program and pays the $1,615 in fines. Additionally, MVD will require he install an ignition interlock device on his vehicle for a year.

Carlos Garcia was stopped after failing to stop at the stop sign at the intersection of Cave Creek and School House roads and was cited for a DUI with BAC of .12.

Because Garcia had a prior DUI within the last five years, he was sentenced to the mandatory minimum of 90 days in jail with 60 days suspended provided he completes an alcohol program, 30 hours of community service and pays a fine of $3,450. MVD will require that he have an ignition interlock device installed on his vehicle.