Sierra Club donates to Open Space
August 12, 2009
CAVE CREEK – On Wednesday, August 6, 2009 Beverly Full, Chairman of the Sierra Club, presented $1000 to Town of Cave Creek Mayor, Vincent Francia for the acquisition of Open Space.

Mayor Francia expressed sincere thanks to the Sierra Club on behalf of the Town of Cave Creek for their generous donation. It will be allocated toward the purchase of the Arizona State Trust Lands recently annexed into the Town of Cave Creek and rezoned as Open Space.

This gift from the Sierra Club will take the Town of Cave Creek closer to its goal of purchasing and preserving this Open Space.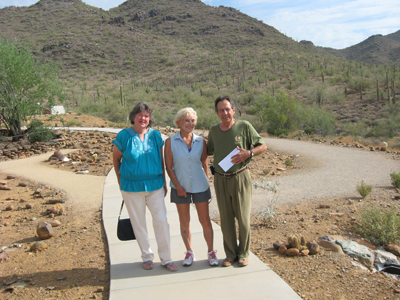 Norma Hand (l) from the Sierra Club, Beverly Full, Chairman of the Sierra Club and Mayor Vincent Francia, Town of Cave Creek.

Courtesy Photo/Bambi Muller